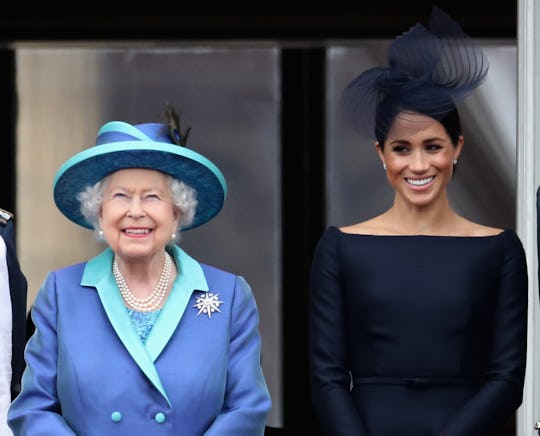 Chris Jackson/Chris Jackson Collection/Getty Images
Queen Elizabeth Shows Support For Meghan Markle's Fire-Ravaged Home State
As the death toll rises and firefighters continue to fight the blazes in California, the Camp and Woolsey fires have now been burning for more than a week. The Camp Fire has officially become the most deadly and most destructive fire in the state's history. And unfortunately, neither blaze is fully contained at this point. The severity of these natural disasters has even prompted statements from leaders of other nations. In fact, Meghan Markle's fire-raged home state of California has been acknowledged by Queen Elizabeth. And her words are in stark contrast to President Donald Trump's.
As People reported, Queen Elizabeth II released a statement concerning the wildfires on Saturday, Nov. 17. "Prince Philip and I offer our deepest sympathies to the people of California, who continue to suffer from the devastating fires across the state," the statement, which was written directly to the POTUS, read. "Our thoughts and prayers are with the family and friends of the victims, and to all those who have lost their homes and livelihoods. I pay tribute to the courage and dedication of the US emergency services and the volunteers that have provided support."
If you remember, the Duchess of Sussex and former actress Meghan Markle was actually born and raised in Los Angeles California, according to Biography.com. So it's probably safe to assume the fact that Markle has such a close connection with the affected area likely influenced Queen Elizabeth's statement. Still, her words were a kind gesture in the midst of the ongoing devastation.
Twitter reactions have varied from simply being appreciative of Queen Elizabeth's kind words — to straight-up comparing her response to that of the POTUS. One Twitter user wrote, "Thank you ma'am. We remember your visit to San Francisco and Yosemite in 1983."
Another person commented, "Thank you @RoyalFamily for those kind words. We Californians are truly suffering from these epic fire storms do to a lack of rainfall. I only wish our own president would had the courage when the fires first started, instead of criticizing the government of CA . Appreciate it!!"
Yet another Twitter user pointed out, "My god even the queen is more sympathetic to the state of California, than the president... Fml."
Another Twitter user commented, "Thank you your Majesty for showing our President what leadership looks like."
What many of these Twitter users are probably referring to are Trump's remarks nearly a week ago — which placed blame for the severity of the fires on the state itself, according to Business Insider. "There is no reason for these massive, deadly and costly forest fires in California except that forest management is so poor," he tweeted on Saturday, Nov. 10. "Billions of dollars are given each year, with so many lives lost, all because of gross mismanagement of the forests. Remedy now, or no more Fed payments!" On Sunday, he added, "With proper Forest Management, we can stop the devastation constantly going on in California. Get Smart!"
As CBS News reported, the Camp Fire in northern California has burned through 148,00 acres, destroyed 11,862 structures, and has resulted in 71 confirmed fatalities. As of Saturday, it was only 55 percent contained. The Woolsey fire in southern California has caused three confirmed fatalities, destroyed 713 structures, and burned 98,362 acres, according to CBS News. It was 82-percent contained as of Saturday. However, it's worth noting that 1,000 people are still unaccounted for in the California wildfires.
I can't speak for Meghan Markle, of course. But I would imagine it must be so surreal — and heartbreaking — for her to watch the destruction unfold in her home state from thousands of miles away. And for those who have been displaced or directly affected by the rising death toll? Unimaginable. My thoughts remain with the wildfire victims, firefighters, and first responders during this devastating time.