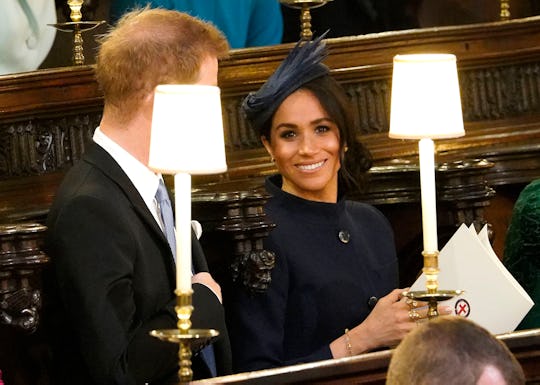 WPA Pool/Getty Images Entertainment/Getty Images
Meghan Markle Donned A Classic & Elegant Look At Princess Eugenie's Royal Wedding
In May, Meghan, the Duchess of Sussex wed Prince Harry, Duke of Sussex, in a gorgeous wedding at Windsor Castle, and on Friday, the couple returned to their wedding venue — though this time, simply as wedding guests. Princess Eugenie — Prince Harry's cousin and currently the ninth in line for the British throne — married Jack Brooksbank in St. George's Chapel, and though the identical location has led to inevitable comparisons between the two events, Meghan Markle's look at Princess Eugenie's wedding was beautiful and seemed to suggest that, this time, Meghan wasn't particularly looking to make a fashion statement.
As requested by the bride and groom on their wedding invitations, Prince Harry and Meghan went full-on formal: the prince wore a traditional morning coat, while Meghan opted for a navy day dress and coat, along with a matching fascinator. Her outfit was a sweet homage to her own wedding day — like Meghan's wedding dress, her day dress was designed by Givenchy. And that was actually something that probably made some Brits *particularly* happy: betting agency Ladbrokes revealed that the French design house was the odds-on favorite to be the one Meghan would choose at the year's second royal wedding, according to The Sun.
Eagle-eyed royal fans may have noticed though, that her dress also looked familiar — the duchess is thought to have previously worn the navy Givenchy look previously. And it was likely a very deliberate choice: most royal women will opt to wear a previously-worn dress to a wedding, according to Hello!, in order to avoid the risk of upstaging the bride.
It's an unwritten rule we've already seen Catherine, the Duchess of Cambridge employ in the past — she wore the same cream Day Birger et Mikkelsen brocade coat to Zara Tindall's 2011 wedding as she did when she attended the 2006 wedding of Laura Parker-Bowles and Harry Lopes, according to PopSugar, and at the 2013 wedding of William Van Cutsem and Rosie Ruck Keene, she picked the polkadot Topshop dress she'd worn at an earlier public appearance. And since Meghan's status as a new royal certainly earns her tons of attention wherever she goes? It's no surprise she felt more than happy to downplay her outfit on Eugenie's big day.
Similarly, Catherine, Duchess of Cambridge, opted to honor her own wedding dress designer — she arrived in a burgundy dress by Alexander McQueen:
What was also notable though, is that both Meghan and Kate chose to skip the longer walk to the chapel taken by most of the wedding guests, and instead arrived by car at the entrance, ensuring a brief — and very low-key — appearance.
Of course, the two duchesses still garnered plenty of attention, and seeing them sitting together inside the chapel was downright adorable (especially since Kate and Prince William even snuck in some stealth PDA!). But it's clear that, as far as they were concerned, the day was all about celebrating Princess Eugenie and Brooksbank, and honoring their special day.