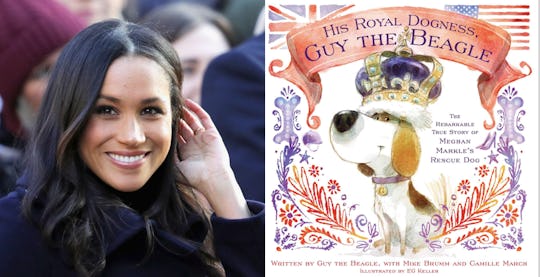 Christopher Furlong/Getty Images Entertainment/Getty Images/ Amazon
Meghan Markle's Rescue Dog Guy Is The Star Of A New Children's Book
Please make way, a member of the royal family is about to pass by. Don't be alarmed, he may stop and sniff your shoes, so try not to stare, it is perfectly normal behavior since they're right at his level. Making his authorial debut, Meghan Markle's rescue dog Guy is the star of a new children's book, which will be available for purchase soon.
The picture book is called His Royal Dogness, Guy the Beagle: The Rebarkable True Story of Meghan Markle's Rescue Dog and tells the story of Guy's journey from being a stray in the woods of Kentucky, to surviving a kill shelter, to learning about his new life in England, according to the Daily Mail. "Guy reveals how he went from pawper to proper," explains Simon & Schuster's description. Along the way, little Guy will be faced with strange new customs like using the other side of the fire hydrant and accidentally stealing half of Prince Charles' sandwich.
His Royal Dogness is written by Camille March and Mike Brumm, though Guy adorably has a writing credit as well. It's been illustrated by EG Keller, who also did the drawings for A Day in the life of Marlon Bundo, a book about Mike Pence's rabbit released by HBO's John Oliver.
March's Amazon bio lists her as a former publishing professional and current Anglophile who once owned a beagle named Ralph. According to the publisher's website, Brumm is a producer on The Late Show With Stephen Colbert, which probably explains the review from Colbert which is included on the book's Amazon page: "Sit…Stay…Enjoy! Good reader!" On the first day it's been available for pre-order the book has already ranked as the number one new release in Dog, Cat and Animal Humor.
Those who were fans of Markle before she became the Duchess of Sussex may remember Guy as the star of her since-deleted Instagram, where she could often be seen cuddling up with her contented buddy, according to People. But millions more came to know him after the most adorable flash of a moment when it became obvious he was getting some very special attention in his new life in Britain. The pup's little head could be seen peeking up out of the queen's car as she took him along on a ride.
Guy's story captivated dog-lovers everywhere as it was revealed. He'd been lost in the woods when he was picked up by a shelter in Mt. Sterling, Kentucky, according to the Daily Mail. The shelter he was in was a kill-shelter, so they reached out to A Dog's Dream Rescue in Toronto to see if they had room to take the little pup in, according to Toronto City News. Rescue volunteers arranged for Guy to be transported to Canada, where he met up with Markle at an adoption event after she saw him posted on the shelter's Petfinder page, as the Daily Mail reported.
Markle also had a rescue dog named Bogart that lived with her in Toronto, but she had to make the choice to leave him behind when she moved to London. He was thought to be too old to fly, according to Metro.
This isn't the first time a canine member of the royal family has landed a book, as People noted. Lupo, the dog owned by Kate Middleton and Prince William, has a book series called The Adventures of Lupo, and the Queen's corgis were also included in stories. This isn't even the first time Guy has been featured in a book; Amazon also sells The Duchess and Guy: a Rescue-to-Royalty Puppy Love Story by Nancy Furstinger. It's also available for pre-order and is recommended for children 4 to 7 years old.
His Royal Dogness is available in hardback and e-book editions, and releases on Nov. 20 — just in time for the holidays!