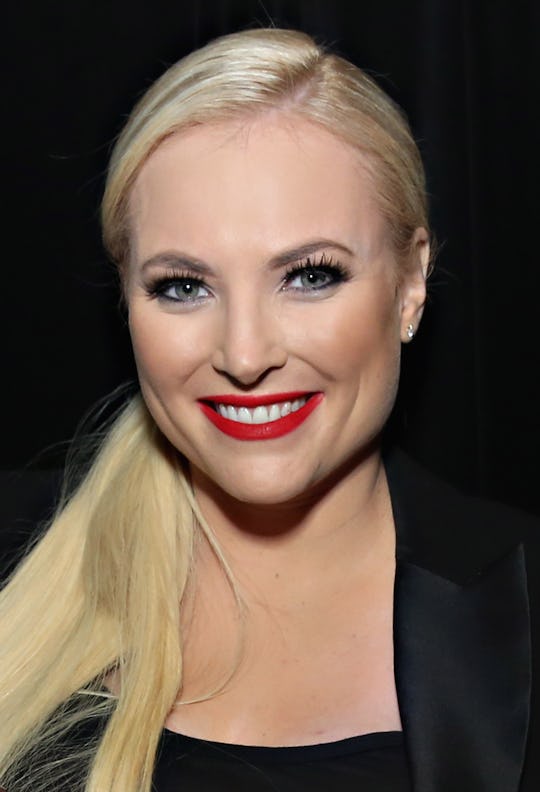 Cindy Ord/Getty Images Entertainment/Getty Images
Meghan McCain Says Democrats' "Hysteria" Isn't Helping Them, But Misses One Crucial Point
Fox News contributor and Outnumbered host Meghan McCain has been outspoken throughout the 2016 presidential election. She admitted she shed tears when President-elect Donald Trump was chosen as the Republican presidential candidate. She referred to both Trump and Democratic presidential nominee Hillary Clinton as "garbage" candidates and felt that the American people deserved better. Now, she is doing an ever so slight about-face. In a comment during Outnumbered this week, McCain said Democrats' "hysteria" over Trump's presidency isn't helping them — but is she missing something?
McCain, who is the daughter of former 2008 Republican presidential nominee and war hero Sen. John McCain, told her co-hosts on Outnumbered,
You have to let him get into office. You have to let him lead. This hysteria on the left is ultimately what is going to continue to kill them in every election because if every single thing President Trump now does is the end of the world, then no one is going to take you seriously.
McCain also said that, in general, she has been "pleasantly surprised" by President-elect Trump so far:
I'm pleasantly surprised. I'm pleasantly surprised at how calm everything is. I'm pleasantly surprised with all of the choices so far; I like every single person he's chosen. I'm excited about every person he's chosen for secretary of state except for one person.
Sure, we are all very happy for McCain that she is so pleasantly surprised by Trump, but she might be forgetting a pivotal issue here. The choices President-elect Trump makes for the future of America will directly affect everyone. And while it's easy to dismiss genuine concern for the welfare of one's country as simple "hysteria," it's not as simple as that.
Trump's platform promises, many of which were rife with racist, Islamaphobic, and xenophobic plans for the future of America, are absolutely cause for concern for many minority groups. Just because McCain is a big fan of retired Marine Gen. James Mattis, Trump's choice for secretary of defense, doesn't cancel out the damaging, hateful rhetoric that landed Trump in the position of president-elect in the first place, nor does it cancel out equally concerning rhetoric from his Cabinet picks, like ret. Lt. Gen. Michael Flynn, whose own son spent several months this year perpetuating a false news story about child sex trafficking and Hillary Clinton's campaign, which some claim led an armed suspect to allegedly target the pizza establishment at the center of the conspiracy theory.
Prior to Trump's election, McCain was actually one of Trump's more outspoken critics. Speaking on her national radio program "America Now," McCain told listeners she wept when she heard Trump had won the GOP nomination:
I understand the voters have spoken. I understand that he's had more votes than any other candidate – but this is an incredibly polarizing election. 60 percent of Republicans want another candidate. This is not the vision for America I have.
She went on to say that she wouldn't vote for either candidate in the election, and that she would be "writing in a name" rather than choosing between two candidates she considered "garbage."
Since then, it appears that McCain has softened her opinion of Trump. Which is perfectly fine... until she mocks people who won't bend or who move forward with the strength of their own convictions. When she calls those people "hysterical" for being justifiably concerned for their future, well, that's just not OK either.