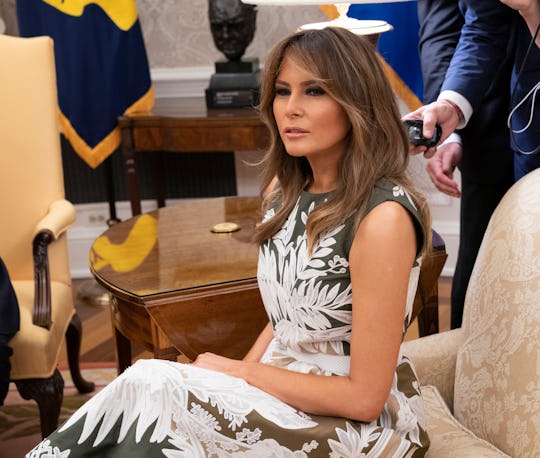 Pool/Getty Images News/Getty Images
13 Things Melania Trump's Jacket Should've Said
"Fast fashion" tends not to draw a lot of press attention. Quickly made to cash in on catwalk trends, these items are purchased cheaply, only to be tossed out within a year or so (if they even last that long). But on Thursday, Melania Trump made a look from Zara famous on her way to visit immigrant children detained at the border: a jacket with the words "I Don't Really Care, Do U?" scrawled on the back. Obviously this was wildly inappropriate, so I have a few things Melania Trump's Zara jacket should've said that perhaps she can consider in the future. You know, for the next time... because with the Trumps there's always a "next time."
Initially, many people did not believe the image of the First Lady wearing the notorious jacket was genuine. I myself was skeptical because, well, how could such a thing possibly be true? But the First Lady's own spokesperson, Stephanie Grisham, eventually confirmed that the photographs were not a hoax. "It's a jacket. There was no hidden message."
Ummm, it's pretty obvious there was no hidden message here, my dear.
The spokesperson went on to chastise anyone who would even bring attention to the First Lady's sartorial decision, saying in a statement, "After today's important visit to Texas, I hope the media isn't going to choose to focus on her wardrobe."
The unannounced visit was seen by many as an effort for the embattled Trump administration to show compassion and garner positive PR in light of the horrifying stories of forced immigrant family separation that have been at the forefront of the news cycle for the past week.
So... that went well.
Look, when someone tells you who they are, believe them, and Melania has made her feelings pretty clear. If she truly wanted to help children and families (or provide additional insight into the content of her character), here are some handy alternatives she could have gone with besides an olive jacket with a wildly inappropriate message: