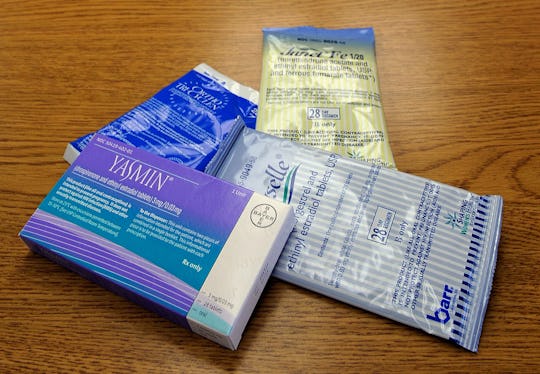 Kevork Djansezian/Getty Images News/Getty Images
Melinda Gates: Women Are Hurt Globally By Trump's Budget
Trump's proposed 2018 budget has a lot of impacts. The effects of cutting back on (or eliminating entirely) the programs Trump has proposed are endless for those living in the United States. But the fact of the matter is, Trump's budget cuts will have a bigger effect on just you or the people around you — his proposed budget cuts have the potential to affect those around the world. On Sunday, Melinda Gates' foreign aid op-ed, which she wrote for USA Today, discussed those cuts, specifically slashes to international program budgets, as well as proved just how women around the world would be hurt by them. More importantly, it highlighted exactly why something needs to be done to intervene.
Melinda Gates is the wife of Microsoft founder Bill Gates — but she's much more than just someone's spouse, she's a mover and shaker in her own right (not to mention, she has a degree in computer science, an MBA from Duke's Fuqua School of Business, and was a project manager at Microsoft previously). Gates is widely known for her incredible philanthropy work. Together, she and her husband have given away $40 billion to those in need, according to CBS News, advocating for others around the world who need all the help they can get.
Besides just donating money and advocating for others, Melinda has also traveled the world to meet with those for whom she's speaking out, recently heading to Indonesia, where she saw how Trump's budget cuts would affect women in that part of the world. According to Gates' op-ed, Indonesia has a "hugely successful family planning program" due to support from donor nations like the United States, which helped Indonesians get access to birth control.
That access to birth control has had an incredibly positive impact on women and their families' lives — they were able to control the size of their families and improve their situations. But despite all of Gates' and other philanthropists' work, millions of women across Indonesia still lack suitable access to birth control — and that could be made worse by Trump's budget cuts.
In her op-ed, Gates explained just what kind of specific impact cutting this aid could have:
As the debate over cutting funding for development assistance continues, we will be asked whether we believe that investing in developing countries and the women and girls who live there is worth it. I hope you will insist that it is. And as the White House implements the Mexico City policy, which prohibits U.S. aid from supporting international groups that support abortion, and considers cuts to things such as foreign aid, I hope you will speak up loud and clear for the power of contraceptives that transforms nations and build a better world for all of us.
Currently, the United States gives around $600,000 in foreign aid to Indonesia with the majority of it going to education and social services. But this could be impacted because Trump's views on foreign aid are less than favorable. Foreign aid accounts for 1 percent of the federal budget and will experience a 28 percent cut in funding, according to Reuters, with additional cuts to the funding of the United Nations. However, according to Reuters, it is possible that Congress could reject some of the proposed cuts to foreign aid when it comes down to it. On top of this, just a few short days into his presidency, Trump also reinstated the Mexico City policy, which bans U.S. aid to international health groups that provide abortion.
This could understandably have a major impact — the United States is the biggest global donor to people affected by humanitarian crises. Even Hillary Clinton seems to think that these cuts to foreign aid could cause a problem, saying at a recent speech at Georgetown University, "This Administration's proposed cuts to international health, development, and diplomacy would be a blow to women and children and a grave mistake for our country."
Gates' op-ed is an important reminder that Trump's budget cuts will not only have a major effect on those living in the United States but those living all over the globe. We may not think it affects us directly right now, but in time, we'll realize that, as citizens of the world, what hurts one group hurts us all.