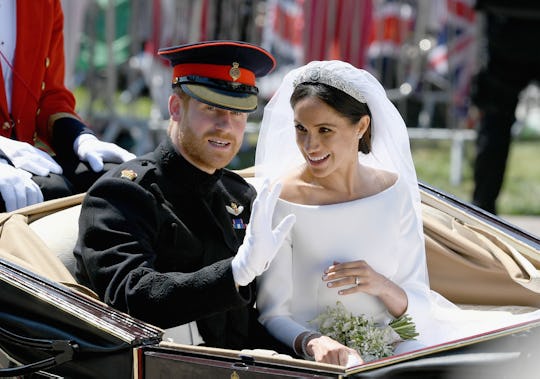 Jeff J Mitchell/Getty Images Entertainment/Getty Images
These Memes Of The Royal Wedding Portraits Show The Kids Weren't Having It Anymore
The royal wedding is over, and now all fans are left with are the endless candid photos of the picture-perfect day. On top of those, Kensington Palace released a few gorgeous official royal wedding portraits on Monday. And because the internet is the internet, memes of the royal wedding portraits are already creating a wave of giggles across Twitter.
One of the three portraits is an absolutely stunning black-and-white portrait of Prince Harry, Duke of Sussex, and Meghan Markle, Duchess of Sussex lounging on outdoor steps, with huge smiles on their faces. "The Duke and Duchess of Sussex would like to thank everyone who took part in the celebrations of their wedding on Saturday," reads the Instagram caption of the shot, which was taken by photographer Alexi Lubomirski, who also took their engagement photos. "They feel so lucky to have been able to share their day with all those gathered in Windsor and also all those who watched the wedding on television across the UK, Commonwealth, and around the world."
The second portrait features Harry and Meghan kneeling on the floor, surrounded by all their bridesmaids and page boys. And the third portrait includes the same group of bridesmaids and page boys, as well as Meghan's mom Doria Ragland, Prince William, Duke of Cambridge, Catherine, Duchess of Cambridge, Queen Elizabeth II, Prince Philip, Duke of Edinburgh, Prince Charles, Prince Of Wales, and Camilla, Duchess of Cornwall.
But no matter how gorgeous photos of famous people are, these days, they're all subject to memery. For instance, many Twitterers focused on one page boy's facial expression, which was reminiscent of the innocent-child-turned-psycho-killer trope in a horror movie.
Someone else surmised that perhaps the page boy in question was simply antisocial.
And someone else joked that he looked ready to drop a shoegaze album. (Shoegaze is a British indie rock music genre featuring distorted, loud sounds, explained AllMusic. It was popularized by bands like My Bloody Valentine.)
Some Harry Potter fans pointed out how the page boys resembled tiny Severus Snapes.
Or at least Slytherins.
Like many other guests, this little one was seemingly only there for the delicious food.
Unless this was just the moment she had a sinking realization about Suits.
Or an even more sinking realization about the kid sitting next to you.
Others noticed how Princess Charlotte was a bit less smiley than usual.
And, given how gorgeous the portrait of the newlyweds is, most tweets about it are simply praising them for being couple goals, as opposed to memes.
The photographer behind the photos, Alexi Lubomirski, recently opened up about how he got the ultimate gig, in an interview with CBS This Morning. He said:
I was actually in England visiting my mother. She was having a rather complicated operation. …And the doctor had given us rather dicey odds on whether … my mom would make it ... And so he said, "It's gonna be a 10-hour operation." … We were sitting by the phone panicking. And then 10 hours 45 minutes the phone rings. And so we all jump on the phone and they said, "Is this Alexi Lubomirski? This is Kensington Palace calling."
When he went in to meet with the couple, he said they got on really well, adding:
It was very informal. They're just a young couple in love ... It's the most beautiful thing to see. And I'm a cheeseball so I love that kind of stuff.
In addition to all of Monday's memes regarding the official portraits, plenty of memes also emerged over the weekend, making jokes about other aspects of the royal wedding. For example, Princess Charlotte and Prince George's very different waving styles drew some attention.
And others had many jokes about Prince George's outfit combined with his squinty facial expression.
Others latched onto a smug facial expression Meghan was caught making.
So even though these may be the last of the royal wedding photos, at least the memes are still rolling in.