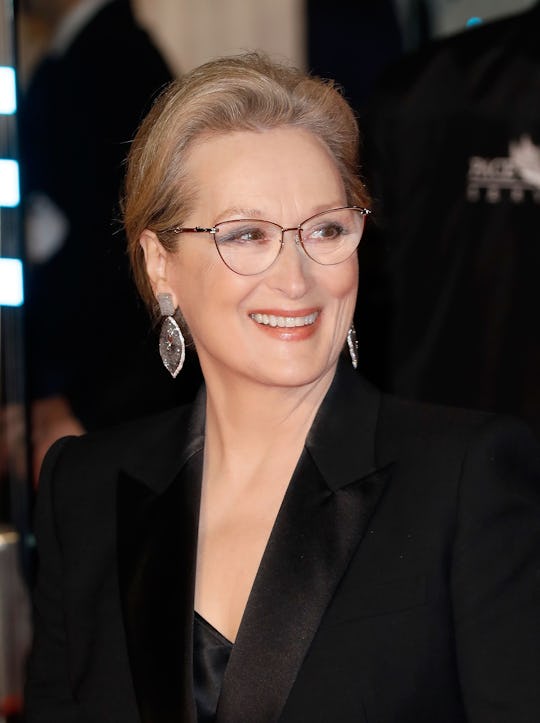 Tristan Fewings/Getty Images Entertainment/Getty Images
Meryl Streep Yelling At The Oscars Is The Perfect Throwback To Her Famous Meme
There are few memes that you can actually trace back to the original source or story that they originated from. However for Meryl Streep's still popular meme that shows her shouting at an award show, most fans remember it from the 2015 Screen Actors Guild Awards when she showed support for Debbie Reynolds receiving the SAG Lifetime Achievement Award. So Meryl Streep yelling at the Oscars on Sunday night was the best unintentional callback to the meme that people are still using on the internet on a regular basis.
Although the still from the 2015 SAG Awards has been used for all kinds of memes, from those which praise others, to shouting out insults or personal opinions, the origin of Streep's popular meme was from the time she cheered on Reynolds as she accepted the Sag Lifetime Achievement Award from her daughter, Carrie Fisher. The photo itself lives on as one of the more famous memes on the internet and still going strong, but as Streep was a close family friend, it makes perfect sense that she'd have been so supportive from the audience at the 2015 SAG Awards.
Apparently, though, that's Streep's signature move, as she did a similar cheer at the 2018 Oscars and it was the perfect way to callback to the meme, even if she didn't mean to.
This time around, Streep yelling at the Oscars wasn't about anything as serious or important as cheering on an old and dear friend, but it got the internet to bring up the meme that shows her doing the exact same thing. Let's just call it the excited Streep meme, because it's basically her go-to move and Twitter can't stop talking about it.
To be fair, it's really the only way to be kind of sort of heard from the audience at the Oscars, even if you are Streep, who's an iconic celebrity all on her own, meme notwithstanding. Despite seeming like one of the classiest and more reserved of Hollywood celebrities, which I'm sure she is, Streep's penchant for shouting out to friends and co-stars at different award shows is her way of showing love and fans are here for it.
Over the course of her career, Streep has been nominated for 21 different Oscars, which is more than any other actor, and for 2018 she was up for Best Performance by an Actress in a Leading Role for her part in The Post. But something tells me she'd be just fine with any one of her fellow actors winning in her place, because she's nothing if not gracious with those award show shout-outs from the audience. Seriously, can she be my hype woman?
Streep is also making headlines for fellow actress Tiffany Haddish's apparent love and admiration for her, as shown multiple times at the Oscars Sunday night. Haddish told Ryan Seacrest on the red carpet that she was looking forward to meeting the actress, among other things. "I'm looking forward to meeting Meryl Streep and asking her to be my mamma," the Girls Trip star said. "I'm looking forward to having drinks with Whoopi Goldberg, I'm looking forward to doing the Nae Nae with everybody, and I'm definitely looking forward to doing my presentation presenting the Oscars."
Later, Haddish met Streep on the red carpet and said as much and when she appeared on-stage to present an award, she professed her love for Streep once again. Afterward, Streep gave another gesture that could become a meme as well, but nothing will ever quite beat the Streep shouting meme. It's so universal that people will no doubt continue to use the photo for pretty much anything they need to say and doing the same thing at the 2018 Oscars only brought it to the forefront once again.
Check out Romper's new video series, Romper's Doula Diaries:
Watch full episodes of Romper's Doula Diaries on Facebook Watch.