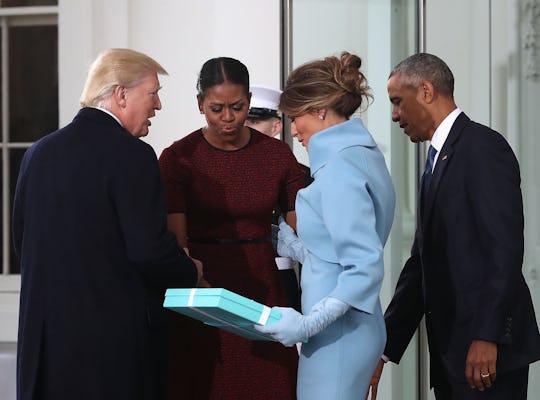 Mark Wilson/Getty Images News/Getty Images
Michelle Obama's "Side Eye" On Inauguration Day Wasn't What You Think
Not making assumptions about things is a good rule to live by, although it's sometimes hard not to jump to conclusions. Remember back on Inauguration Day when Twitter erupted with memes and jokes about Melania Trump and Michelle Obama greeting each other? As it turns out, there was a very good reason for some of the awkwardness that people noticed in the photos of the two families meeting on the White House stoop. Last week, Michelle Obama clarified the "side eye" with Melania Trump that everyone thought they saw back in January.
It happened quickly, but some genius circulated a shot of Mrs. Obama's face accepting a huge Tiffany & Co. box from the new first lady. Gifts are customary when the incoming and outgoing White House families meet, but the camera caught Michelle's face at a perfect moment to make it look like she was judging Melania's offering hard.
Instead, Mrs. Obama explained at an event last week at the American Institute of Architects, her emotions that day were much more complicated than anyone on the internet could even imagine. And they had not one thing to do with the Trump family. She said at the event, "So that moment of transition, right before the doors opened and we welcomed in the new family, our kids were leaving out the back door in tears, saying goodbye to people." The former first lady added, "I didn't want to have tears in my eyes because people would swear I was crying because of the new president."
And let's face it, internet friends, everyone probably would have.
When you put it that way, it totally makes sense. All that viewers were able to see was the quick moment on camera when the two families met, but no one was privy to the behind the scenes action. Where was Bravo's Andy Cohen when Twitter and the Real Wives of the White House needed him to get the essential back story? The context of the whole scene is essential.
Having to watch your kids close a chapter of their lives (and deal with your own mixed feelings) is tough in any situation. Although the Obamas have made it clear that they were pretty ready to leave the White House and get back to living like semi-regular people, it was an emotional day for the family that had nothing to do with politics. It was about the family's last day in the house their daughters grew up in.
Mrs. Obama said that her daughters treated the move just like it was any other family's move from Old House to New House. Malia and Sasha, 18 and 15 years old respectively, wanted to party before saying goodbye. Because what teenagers don't want to party? Their mom said of their final night in the White House:
They had a sleepover, because of course on Inauguration Day, because my girls are so normal, they're like, "Well, eight girls are gonna be sleeping here because it's our last time, and we want pizza and we want nuggets." And it's like, really?
That sounds like probably the best way to celebrate the end of an era.
Obviously, the entire transition was tough on the Obama family. Malia attended her father's farewell address in Chicago just before the final days and was spotted shedding a few tears, so it makes total sense that she, her sister, and mom were having a moment as the Trump motorcade approached their house to move in on that rainy January day.
Anyone who has been caught in a candid Instagram picture can attest to the fact that photos don't always tell the full story, or get your best angle. That Michelle Obama was just trying to do her best to keep it together is pretty relatable and explains a furrowed brow here and there. Because who throws shade at a Tiffany's box? That story never made sense anyway.