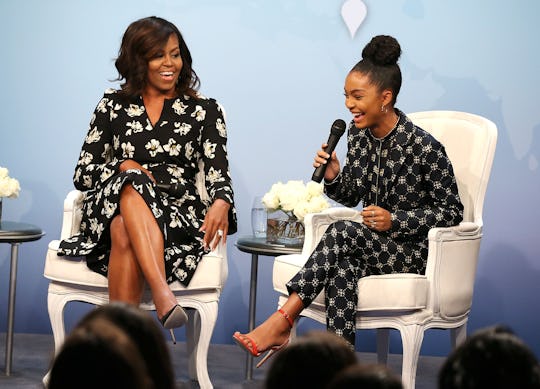 Paul Morigi/Getty Images Entertainment/Getty Images
Yara Shahidi Got The Best College Recommendation
In between long days of filming for the hit ABC show in which she stars, Black-ish, advocating for social justice issues, and studying for her five AP classes on set, one young actress found time to apply to college. Harvard is among the schools she hopes to attend — and it's not just her impressive test scores and report cards that will likely help her get in. In a recent interview with W Magazine, Yara Shahidi revealed Michelle Obama wrote her college recommendation letter, probably making her one of the most badass applicants of all time.
"She is very amazing and such a supporter, which is something very surreal to say," Shahidi told the magazine's Katherine Cusumano of Mrs. Obama. But that's not all — she also shared that the former first lady gave her a "go get 'em, tiger" back rub before she took her AP exams, which, honestly, pretty much guarantees that she aced them.
But what exactly is it that compelled the elegant, brilliant Mrs. Obama to vouch for an up-and-comer like Shahidi? Obviously, the 17-year-old impressed her a lot when they appeared together during a panel for Glamour magazine's "A Brighter Future: A Global Conversation on Girls' Education" in October. There, each shared their views on the power of education.
"I got interested in arts and theater as a result of how much I loved to read," Shahidi said in response to an audience question at the time. "... And for me, it was reading Baldwin in class, and reading Sandra Cisneros in class, and reading Zora Neile Hurston and seeing that there are these powerful ... women of color. And their stories are being appreciated by everybody in my class, and how universal that story was ... I feel like it was then my job as the actor to them bring that story to life."
It could have been that and other answers that impressed Mrs. Obama and endeared Shahidi to her, or it could have been the precocious teenager's role in a campaign for Beyoncé's athleisure line, Ivy Park. Her acting chops certainly could have contributed, as Black-ish recently wrapped a highly successful third season and Shahidi is preparing to film the pilot of a spinoff starring her character. And let's not forget other accomplishments that could have made Mrs. Obama take notice: Shahidi founded a mentoring organization called Yara's Club, and when she was just 15 years old, The New York Times reported that she had met with U.N. Women. She's also an outspoken proponent of encouraging women to pursue education and work in science, engineering, technology, and math fields.
So, yeah. Badass-mode activated. And before tackling all that coursework (as she's planning on obtaining dual degrees in African American studies and sociology), Shahidi plans to take at least one gap year to sort out all the exciting directions in which her life could go, she told People magazine last year. In fact, that's exactly the route Mrs. Obama's daughter Malia took when she decided to defer her admission to Harvard until her family was out of the White House:
I know when Malia Obama announced [she was deferring], she got a lot of slack, but I feel like what's interesting is I know so many people that are deferring. It's more than to just roam around or just sit down and stare at a wall, but it will also give me an opportunity to work. I've been working more than half of my life and that's always been balanced with school and all of the other responsibilities, so to have a year to focus on work and to focus on specified interests will be nice before I pick a career and choose what I want to study and my life path.
Clearly, Shahidi has more than earned that Michelle Obama recommendation and her time off from schooling until she embarks down what will likely be a very successful collegiate path.