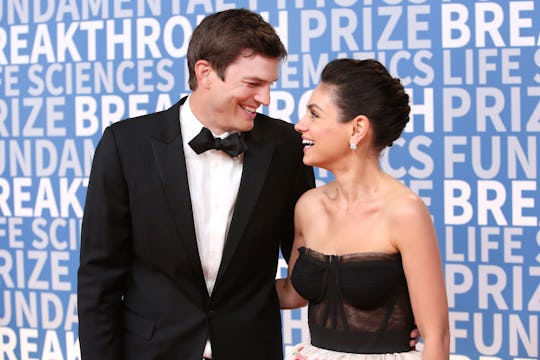 Jesse Grant/Getty Images Entertainment/Getty Images
Mila Kunis & Ashton Kutcher's Parenting Quotes Will Make You Love Them Even More
After spending an unreasonable portion of my childhood staying up late to watch Mila Kunis and Ashton Kutcher as Jackie and Kelso, it's almost surreal to see their relationship progress in real life. The two have come far from their early days portraying an on-again-off-again relationship and pranking fellow celebrities on Punk'd, having tied the knot in 2015 themselves. In addition to still making up the majority of my guilty-pleasure television, Mila Kunis and Ashton Kutcher's parenting quotes are endlessly adorable and so real.
For anyone who doesn't know, the couple has two children together: daughter Wyatt Isabelle Kutcher, born in 2014, and son Dimitri Portwood Kutcher, born in 2016. They actually began dating in in 2012, six years after That 70's Show had ended, and became engaged 2014. They married soon after, tying the knot in July of 2015, according to People.
Having two young kids pretty close in age can be difficult, but the couple seems to enjoy discussing their kids. And it's a good thing, because the stories they share are great! Whenever the topic of parenting and family comes up, Kunis and Kutcher manage to bring a level of realness to the conversation that every parent can appreciate.