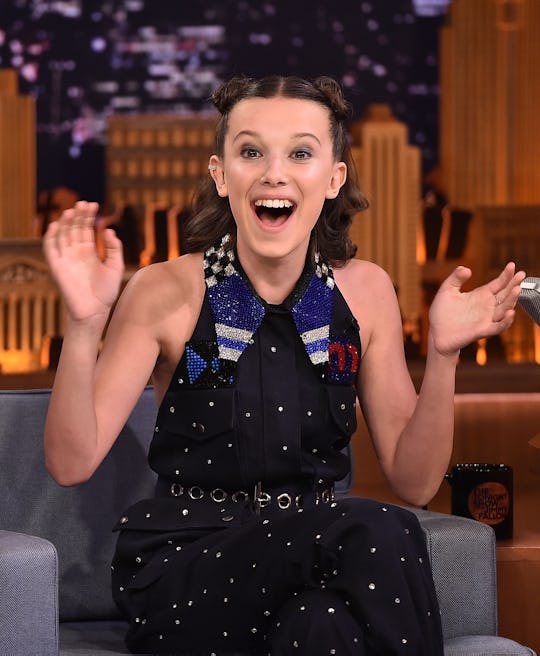 Theo Wargo/Getty Images Entertainment/Getty Images
Millie Bobby Brown's Response To Khloe Kardashian's Pregnancy Is All Of Us
In case you've been living under a rock (or practicing an incredible amount of self-care and taking a break from social media, in which case I applaud you) you already know that Khloé Kardashian announced her pregnancy via Instagram late Wednesday evening, Dec. 20. And like any warm-blooded American, you're excited. But it's Millie Bobby Brown's response to Khloe Kardashian's pregnancy that proves we're all, celebrity or mere mortal alike, a glutton for famous people procreation.
The news first broke of a possible Khloé Kardashian pregnancy back in September, based on information provided by multiple sources close to the reality TV family via US Weekly. And while the same sources told US Weekly that the 33-year-old designer, and her 27-year-old NBA champion boyfriend and future parenting partner Tristan Thompson, are expecting a baby boy, Kardashian's Instagram announcement didn't mention a due date, a sex, or anything other than the sheer excitement Kardashian, and her boyfriend, are feeling at the prospect of becoming parents.
In the announcement itself, Kardashian wrote and posted the following:
My greatest dream realized! We are having a baby! I had been waiting and wondering but God had a plan all along. He knew what He was doing. I simply had to trust in Him and be patient.
And Kardashian isn't the only person excited about her future parenthood. Stranger Things actress Millie Bobby Brown commented on Kardashian's announcement, proving once and for all that we're all excited for another Kardashian to enter the world.
For the uninitiated, Millie Bobby Brown has had somewhat of a known love-affair with the Kardashian clan, so perhaps her unabashed excitement of Kardashian's official pregnancy announcement isn't all that surprising. In November of this year, and according to E! News, the 13-year-old Stranger Things star told Jimmy Fallon that she's "obsessed" with "binge-watching Keeping Up With the Kardashians." During an interview on The Tonight Show Starring Jimmy Fallon, Millie Bobby Brown said:
"I follow them on social media. I think that they are just like really great. They're so entertaining. They have their own like language. Like instead of saying I swear they're like 'Bible!' And then they're like, 'Okurrr!' It means like OK. It's like, 'Okurrr!'"
It turns out, the love is pretty damn mutual. E! News reported that Khloé Kardashian later tweeted, "It's a mutual love fest!! I LOVE you @milliebbrown! #Okurrrrttt this video made me smile from ear to ear BIBLE." Women supporting women, dear reader. That's the dream, and something we all need more of in 2017 (and beyond, for what it's worth).
And, as one can imagine, Kardashian needs all the support she can get now that her pregnancy has been officially confirmed. From fans assuming she became pregnant via IVF, to the relentlessly regurgitated notion that she "finally" confirmed her pregnancy (insinuating that Kardashian owed us the inner details of her productive choices to begin with), scrutiny, judgment, and attempts at overtly shaming Kardashian's pregnancy (and every single decision she makes associated with it) are probably, and sadly, an inevitable part of Kardashian's journey towards motherhood.
So here's to Millie Bobby Brown, a teenager with more celebrity than the majority of us will ever experience, capable of showing class, and excitement, for another woman's life decision to become a mother. We're not all like Millie Bobby Brown, to be sure, but her unapologetic joy for Kardashian is undeniably the reaction all of us should have. If she's not all of us, we should definitely all try to be like her.
Check out Romper's new video series, Romper's Doula Diaries:
Watch full episodes of Romper's Doula Diaries on Facebook Watch.