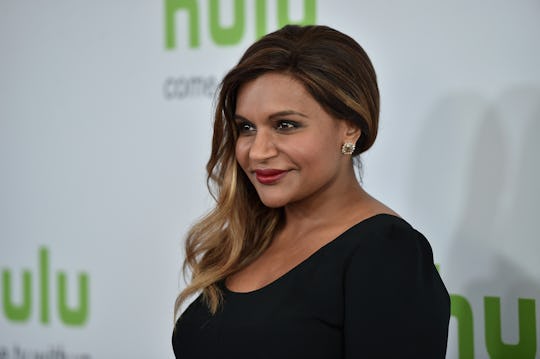 Alberto E. Rodriguez/Getty Images Entertainment/Getty Images
Mindy Kaling Felt Like She's Only A "Food Source" For Her Baby, & Moms Can Totally Relate
One of the many reasons that fans adore Mindy Kaling is that she usually says what so many of us are thinking and are a little scared to admit in public. Which is why when Mindy Kaling said she felt like a "food source" for her daughter in an interview with Hoda Kotb on The Today Show on Wednesday morning, fans (and especially moms) knew exactly what she meant.
Kaling was on the show promoting her new series Champions, but Kotb focused a bit of the interview on her being a new mom. Kaling's daughter Katherine was born back in December, so she's almost done with the hard newborn sleep schedule. But that doesn't mean that there aren't a few emotional scars left over from that exhausting time. The Wrinkle In Time actress said the she loses faith sometimes.
"For a while you just feed, change, diaper, sleep. It's zero feedback except for crying for the longest time," Kaling told Kotb, according to People. "And then you start wondering, 'Does she care about me [or] know about me besides that I'm a food source for her?'"
And moms everywhere may never know. Still, despite the insecurities that her infant doesn't know who she is, 38-year-old Kaling added in the same interview that her daughter is "so great." "I just love being a mom. It's just incredible," the comedian and writer added, according to People.
Kaling added that it was starting to get to her until she realized how easy is it is to make her 3-month-old daughter laugh. "She's incredibly easy to make laugh," Kaling joked, according to People. She added:
It's very nice, actually, verses my real job where it takes so much effort to make these shows. I just sing from The Sound of Music for her and she's cracking up. It's the best.
Kaling also admitted to being distracted by the wonder of her daughter sometimes, too. Kotb seemed to really understand. "She bleeds over into all parts of my life. Sometimes I find myself staring at my phone at a photo of her in a meeting. I'm just looking lovingly at a photo and everyone's like, 'What are you doing?' I don't know … it's a great feeling," Kaling explained, according to People.
Hey, it happens. Fans were feeling the interview. One wrote on Twitter, "Seeing @mindykaling on the today show reminded me of just how wonderful and inspiring she is!!"
It's funny, because a lot of times women will skip over just how deeply having a kid can change you. Like, who would have ever thought that Mindy Kaling would have to wonder if her kid cared about her? Being a parent is very particular. Kaling told Stephen Colbert earlier this year that being a mom was "profound and strange," according to a clip of the interview on YouTube. Kaling joked:
I was not a kid person at all. I was the person, if you had a baby at a party, I would go up to them and shake their hand and be like, "Hello." So I didn't know [or] understand how to be around babies. I was on planes [and] when babies would cry, I would be mad at the families. Now I'm like, "Let them cry, let them do whatever they want. They can sit on me and poop if they want." Now I know more.
She added in the same interview with Colbert that she's been super busy promoting all of her new projects and often feels like Katherine looks at her like, "who dat?" But they still get tons of quality time when they're under the same roof and Kaling's not jet-setting from Los Angeles to New York City for press junkets.
According to People, the actress said, "It's funny because I didn't know when you have a baby that you're gonna be up every three hours. So I'm up in the middle of the night with her and then afterwards it's hard to go back to sleep."
Being a new mom is never easy, and it can't be smooth sailing all the time when your schedule is as packed as Mindy Kaling's right now. The best way to get through it is to actually laugh about it, and she's so good at making all of us do just that.
Check out Romper's new video series, Bearing The Motherload, where disagreeing parents from different sides of an issue sit down with a mediator and talk about how to support (and not judge) each other's parenting perspectives. New episodes air Mondays on Facebook.