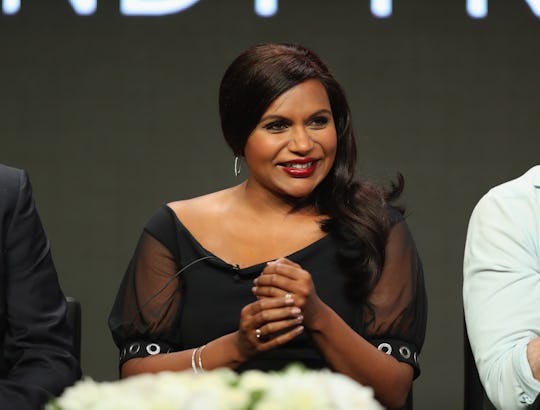 Joe Scarnici/Getty Images Entertainment/Getty Images
Mindy Kaling Talks About Her Pregnancy For The First Time, & Fans Cannot Handle It
Rumors about Mindy Kaling's pregnancy have been floating around for a while, and — in a recent interview — the actress finally publicly confirmed the news. Speaking to Sunday TODAY, Kaling spoke about her pregnancy for the first time and said she was "really excited" to become a first-time mom. Needless to say, fans are very, very excited about the news.
"It's so unknown to me," Kaling said, when asked about the prospect of parenting. "I have a lot of control over a lot of aspects of my life, and this is one where I'm like, 'OK, it's out of my hands,' which is kind of a fun feeling."
Word had previously gotten out that Kaling was pregnant, but the Mindy Project star stayed mum for a solid month before speaking up about the news herself. So far, she hasn't confirmed any extra details about the pregnancy (such as who the baby's father is, when her due date is, or whether she's expecting a little boy or girl), but really, fans just seem happy to hear that Kaling is happy.
Kaling told Sunday TODAY that she hopes she can emulate her late mom's parenting style. "My mom was incredibly fierce and so devoted to us, just loved us and really wanted us to be happy no matter what we did," Kaling said. "And if I could give that to my child, just that open-mindedness, I'd be so happy."
Not to fear, Kaling: there are about a million and one people out there who think you'll do just fine. In fact, there are several fans who are already volunteering to be the baby's godparent on social media:
One of the most exciting parts about Kaling's pregnancy, of course, is that we'll soon be able to hear all of her hilarious takes on motherhood. And the good news? We don't even have to wait until she's given birth, really. During her interview with Sunday TODAY, Kaling was already cracking parenting jokes, saying:
It's so easy to criticize parenting until you're a parent, so one of the nice things about becoming a parent is that I'll be able to openly criticize other parenting because I will have a child.
Seriously, everything that comes out of Kaling's mouth is gold, and I honestly can't wait to her more about her new adventures in pregnancy and parenting. Congratulations to Kaling on her happy news! (And don't mind us as we wait over here with baited breath for her next update.)