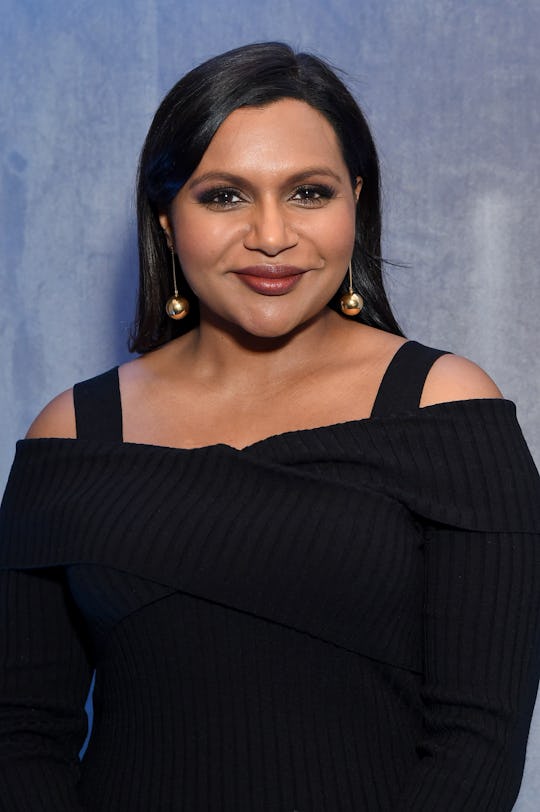 Mike Coppola/Getty Images Entertainment/Getty Images
Mindy Kaling Shared The First Glimpse Of Her Daughter Katherine & OMG, It's Too Cute
Ever since Mindy Kaling welcomed her daughter Katherine last December, she has been careful not to share any photos of her little girl, which is totally respectable and within her rights obviously. Sure, fans have been losing their minds with curiosity about the Ocean's 8 actress' baby girl, but they've managed to temper that curiosity with patience and a healthy dose of respecting Kaling's privacy. Well, it looks like all that patience has been rewarded... sort of. On Halloween, Mindy Kaling shared her first photo with Katherine and it's as cute as you might expect, all while maintaining her daughter's privacy.
Much like most first time moms, Kaling was excited to get out trick-or-treating with her little girl on Wednesday. So much so, in fact, that she relaxed her unspoken no picture rule about her little girl and shared a sweet snap with her on social media.
Now The Mindy Project star didn't go in for one of those matching costumes with her little girl, which I sort of respect. She decided to go for a little more individuality with both of their costumes. She dressed as a bottle of mustard, while 10-month-old Katherine was a tiny lion. A bit random, perhaps, but it totally works.
The proud mom captioned the photo of herself holding Katherine's hands as she stood in front of her:
Happy Halloween from this bottle of mustard and her little lion ❤️🦁🎃
Although her face was hidden, fans were more than happy to get any kind of glimpse of Katherine that her mother might be willing to share, with some actually praising Kaling for sticking to her guns and protecting her daughter's privacy.
"Omg she is so big already, time flies. I bet she is adorable. I am glad you are not putting her out there. Obviously not my business anyway, but just saying," one such fan commented.
As many fans know, Katherine's little face isn't the only thing Kaling is keeping a mystery. She has politely declined to name the little girl's father, which is totally within her rights and I and so many others obviously support her decision. But some fans might (not so secretly) be hoping that Kaling's best friend and former co-star BJ Novak are a couple, and couldn't help making some hilarious references to the possibility on Twitter. Namely that he is the ketchup to her mustard.
For the record, I checked Novak's social media and while I didn't see any ketchup bottle Halloween costume, I did see this tweet from 2016 that references the awesome power of mustard as a rival to "both ketchup and mayonnaise." Which could mean nothing and everything.
I think Mindy Kaling has managed to figure out the healthiest way to share something of her parenting experience with fans and also keep a semblance of privacy. The Office actress has been open about dealing with raising a daughter on her own, telling students at Dartmouth during her 2018 commencement speech, as ELLE reported:
I will tell you a personal story. After my daughter was born in December, I remember bringing her home and being in my house with her for the first time and thinking, "Huh. According to movies and TV, this is traditionally the time when my mother and spouse are supposed to be here, sharing this experience with me." And I looked around, and I had neither. And for a moment, it was kind of scary. Like, "Can I do this by myself?"
She has proven that she totally can pull this motherhood thing off by herself, apparently. Perhaps because Katherine is already totally cool, as she proved when she visited Oprah with her mother earlier this year, as Kaling explained to Ellen DeGeneres in an interview:
The minute we went in, I was like, "Katherine, please, please. You have no idea how high the stakes are right now." And we walked in the door, and her eyes went wide and she stopped crying, like she knew she was in Oprah's house. And then she was just, like, coyly smiling and being adorable for the next four hours.
Any baby who knows how to chill out for Oprah deserves to grow up with a little privacy. Well done, Katherine, well done.