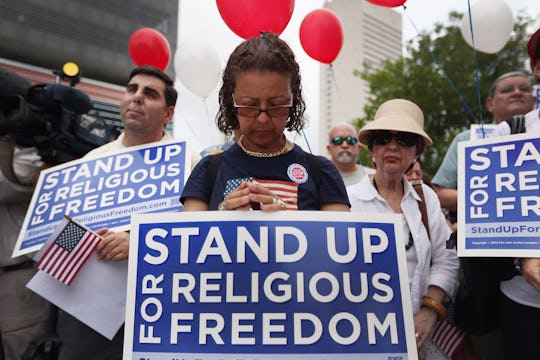 Joe Raedle/Getty Images News/Getty Images
Mississippi's Latest Anti-LGBT Law Is Straight Up Nonsense
Mississippi Gov. Phil Bryant signed an interesting bill on Tuesday that's been causing a colossal stir. This new piece of legislation, the latest in a nationwide line of religious freedom bills, will effectively give businesses and religious organizations the power to refuse a wide range of services to members of the LGBT community based on the business-owner's religious beliefs. While Gov. Bryant claimed in a public statement that House Bill 1523 was intended to "prevent government interference in the lives of the people from which all power to the state is derived", Mississippi's latest anti-LGBT law has many in the LGBTQ community calling the legislation out for what it really is — straight-up nonsense.
So what does this new bill mean for gay rights in Mississippi? Now businesses across the great 'hospitality' state of Mississippi have been given the legal tools to deny LGBT couples a wedding cake, ceremonial services, or the ability to adopt a child (something that flies directly in the face of a recent federal ruling that declared same-sex couples in all 50 states would be able to adopt).
The new law would also mean that employers would be able to fire employees based on their sexual orientation or refuse to hire them in the first place. Landlords would be able to refuse to rent to members of the LGBT community. Anyone in the medical field will be within their rights to refuse to participate in any stage of gender reassignment treatment. School administrators and employers will be given the chance to deny access to locker rooms, bathrooms, spas, and any other places this new law deems "intimate."
Naturally, the governor has tried to clarify that this bill is simply meant to protect the following people: those who believe that marriage should only happen when a lady and a man fall in love, that sex should only happen when that lady and that man are already married, and (last but not least), that ladies can never change their minds to become a man or vice versa.
In a statement on Tuesday, Bryant said that the law is designed "to protect sincerely held religious beliefs and moral convictions of individuals, organizations and private associations from discriminatory action by state government", adding,
This bill does not limit any constitutionally protected rights or actions of any citizen in this state under federal or state laws. It does not attempt to challenge federal laws, even those that are in conflict with the Mississippi Constitution, as the Legislature recognizes the prominence of federal law in such limited circumstances. The legislation is designed in the most targeted manner possible to prevent government interference in the lives of the people from which all power to the state is derived.
My interpretation: Bryant is really worried that people who discriminate against the LGBT community might be discriminated against for being discriminatory. He is boldly fighting for the rights of all homophobic business owners in the state. He is offering them the great opportunity to hide their bigotry and hate behind the law. He has opened the door for churches, religious organizations, and private businesses to exclude people whose lifestyles don't adhere to their religious beliefs. (Before you scroll back to the top of this article to check the date... it's 2016. Not kidding.)
Immediately following the news, many businesses based in Mississippi, along with gay-rights activists and the ACLU, began decrying the bill as discriminatory. According to The New York Times, Jennifer Riley-Collines (executive director of the American Civil Liberties Union of Mississippi) issued a statement regarding Bill 1523, saying
This bill flies in the face of the basic American principles of fairness, justice and equality and will not protect anyone's religious liberty. Far from protecting anyone from 'government discrimination' as the bill claims, it is an attack on the citizens of our state, and it will serve as the Magnolia State's badge of shame.
The fight is far from over, obviously. Activists will continue to take up the torch, businesses will hopefully continue to show their humanity and treat all customers with care. But until this bill is somehow upended, it will continue to be divisive and, to many, ridiculous in more ways than one.