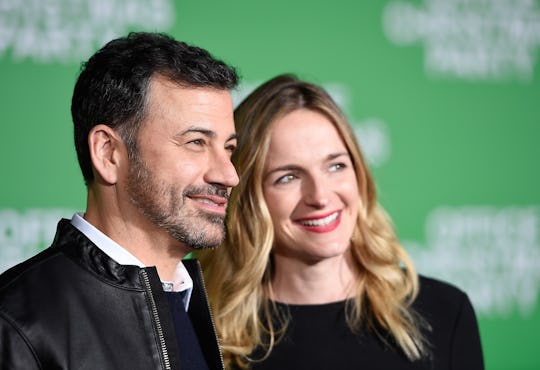 Matt Winkelmeyer/Getty Images Entertainment/Getty Images
Molly McNearney Opens Up About Why She & Jimmy Kimmel Went Public With Their Son's Health Struggles
Billy Kimmel just underwent his second successful heart surgery at 7 months old. That baby has no concept that his birth opened up an important conversation about universal health care, or that his father's speech about him was talked about all over the country. It must have been a difficult decision for Billy's parents, making their private struggle so public. But his mom, Molly McNearney opened up about why she and Jimmy Kimmel went public with their son's health struggles in a recent essay. And it really had more to do with all of the babies around the country than just their own little boy.
McNearney, who not only Kimmel's wife but also a producer of Live! With Jimmy Kimmel as well as the head writer for the show, wrote about her personal struggle with her son's health for the "2017 Women In Entertainment Power 100" issue of The Hollywood Reporter. As fans (and critics) will remember, late night talk show host Jimmy Kimmel delivered an uncharacteristically emotional speech about the birth of his second child, son Billy, back in May. The powerful speech told the story of Billy's birth and the subsequent discovery of several heart defects. Billy was rushed into emergency surgery and happily survived, but Kimmel pointed out that, before 2014, Billy would have potentially been denied heath insurance because his heart condition would have been considered a pre-existing condition. Prior to the implementation of the Affordable Care Act (aka, Obamacare), which took full effect in 2014, insurance companies could refuse to cover or could charge exorbitant amounts for people or children with pre-existing conditions. He also noted that Billy was fortunate to have parents with medical insurance, but that is not the case for every child.
McNearney wrote in her essay for The Hollywood Reporter that she didn't know Kimmel planned to talk about Billy's surgery in his speech. And she was incredibly moved not only by his strength, but by his motivation to help others:
So, there I am, in my living room breastfeeding Billy with my mom beside me, and we're watching. I sobbed through the entire thing. I couldn't believe the strength that it took to tell that story a week after it happened. He didn't have to do that. Our family has excellent health care; he had nothing to gain from that. He did it for the other people whom we met in that hospital. He came home that night, and I just hugged him and I wouldn't let go.
She went on to note that she didn't really think his speech, delivered while the country was in the midst of a potential ACA repeal, would make "much of a difference." Of course, McNearney soon saw how much of a difference Kimmel's speech actually made. The proposed ACA repeal bill, which was authored by Republican Sens. Lindsay Graham and Bill Cassidy and was expected to cause 15 million people to lose health care coverage, did not pass. While Kimmel's speech can't take all the credit, the reality is it did make a difference. Even Sen. Bill Cassidy said on CNN that he would use the "Jimmy Kimmel test" when considering health care coverage principles:
McNearney wrote in her essay that she was not really a political person before, but her son's health scare has made her more proactive.
Look, there's something almost every day that we could be going after, something we could try to be the voice of. But I think that would be a disservice, so we have to stay focused on the few things that are really personal for us. It just so happens that this year Jimmy had a health scare with a child when health care was up for debate, and then people were being gunned down in his hometown [of Las Vegas]. He couldn't sit quiet, and I'm so glad he didn't.
In fact, Kimmel felt so strongly about these personal issues that he wrote those speeches alone, according to McNearney's essay in The Hollywood Reporter:
The monologues he delivered on both of those nights were so personal to him. He had 14 writers sitting in a room ready to write, and he said, "I got this," and went into his own office and closed the door. That was all him, all his heart.
It has not been easy for McNearney and Kimmel, who are also the parents of 3-year-old daughter Jane, to struggle so publicly. Their critics have been harsh, so much so that McNearney says she took a break from Twitter for awhile. But she also says she is proud to have "helped a lot of families."
As for little Billy... he is doing well. And some day, he will know that his birth helped to open up a national conversation about health care.
Because his parents were generous enough to share their story.
Check out Romper's new video series, Romper's Doula Diaries:
Watch full episodes of Romper's Doula Diaries on Facebook Watch.