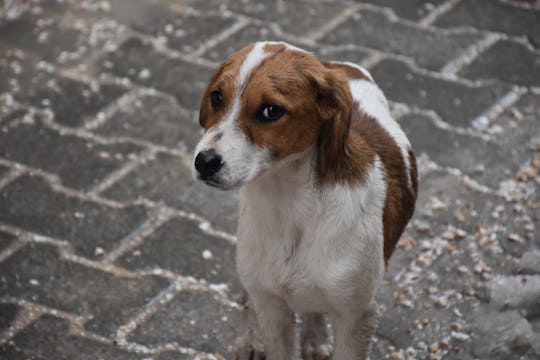 Shutterstock
The Most Popular Pet Names Of 2020 Will Be Inspired By Movies & Food
Superheroes, trendy foods, and celebrities all have one thing in common: They inspire pet names. So it's likely that the most popular pet names of 2020 will reveal a lot about the pop culture moments, movie franchises, and singers that inspire pet owners in the beginning of a fresh new decade. If you can't become a superhero, the next best thing is owning a dog named after one.
To examine the pet name trends anticipated for the coming year, the pet sitting and dog walker site Rover combined info from its database, as well as survey info, to compile the top pet names for 2019. By reviewing the results for this past year, it's easier to guess which names will rule doggie day cares in 2020. "As you can see from the 2019 trends, we find a lot of inspiration for pet names from what's around us, whether it's pop culture moments, the newest movies and TV shows or even trendy foods," Kate Jaffe, Pet Trends Expert with Rover.com, tells Romper. "This year we saw names inspired by everything from health trends — like Keto and Kale — to the musicians we idolize like Lizzo and Taylor Swift, all of which were trending up this year." Basically, whatever people are into at the moment can show up in the way they name dogs and cats.
So what's ahead for the pets of 2020? "We think the top pet names for 2020 will continue to be inspired by our passions," says Jaffe. "I wouldn't be surprised to see more pets named after Baby Yoda given that huge rising fan base, or plant-based foods as restaurants continue to explore that area." Based on Jaffe's insight, and a few best guesses about the coming year, here are some potential top pet names for 2020.