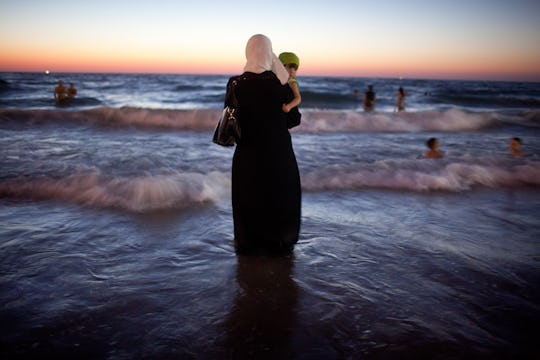 Uriel Sinai/Getty Images News/Getty Images
Muslim Women's Day Tweets That Show Why We Need It
Celebrating Women's History Month at the dawn of President Donald Trump's administration feels like more of an act of resistance in 2017 than it ever has before for some. And this March, one particular group of women is at once feeling the persecution especially acutely and rising, innovating, refusing to back down, in force. That's why a collection of tech and media outlets have joined with MuslimGirl.com to christen March 27 Muslim Women's Day — and everybody can get involved. Beginning to do that is as easy as amplifying Muslim women's experiences and voices all over the internet, so let's start with checking out some Muslim Women's Day tweets that show exactly why the inaugural holiday is so, so important.
The country is grappling with the fallout of Trump's twice-failed attempt at banning of people from some Muslim-majority countries from entering the United States and the rise in hate crimes against those who practice Islam that erupted after his election. Mix that with the administration's anticipated assault on reproductive justice and demonstrated disdain for women, and it's a challenging time to be a woman — and an even more challenging time to be a Muslim woman. Still, leaders like Women's March organizer Linda Sarsour are working to show Trump and the country that they matter and will not be silent.
So, forces online like Twitter, Tumblr, Refinery29, MTV, Teen Vogue, HuffPost Women, and many more are rallying together with MuslimGirl to make sure that Muslim women get the respect, recognition, and understanding they deserve, on Muslim Women's Day and every day. It's a day for the rest of us to listen to Muslim women, to celebrate their diversity, their triumphs, and to sympathize with their struggles. Above all, the day is meant to fortify alliances and uplift: "It's a feel-good moment to remember how many amazing women have come before us and forged our world into what it is today," Refinery29's Neha Gandhi wrote.
And MuslimGirl's editor-in-chief Amani Al-Khatahtbeh explained why she's so excited about it in a tweet, urging everyone to share the content centering Muslim women each of the partners will publish throughout the day:
And there are lots of virtual events to take part in throughout the day, too:
Because, seriously, this is a day for positivity, not the trolls who want to tear others down:
So, to here's how to get involved. Bustle also compiled a helpful list of ways that Muslims and non-Muslims alike can show their support:
For allies, it's essential to share awesome content like this Teen Vogue video about what's it actually like to be a Muslim girl (hint: there's no one way):
It's a reminder that it's essential to stand together with people who are like you, but it's much more important to embrace those who aren't...
...And to recognize Muslim women's many, many accomplishments and contributions:
Even the nasty tweets mocking the concept of Muslim Women's Day with their uninformed, racist views are evidence of why the campaign is indispensable. Ignore those, and spend the day reading and sharing amazing content like Nylon's roundup of "7 Muslim Activists That Are Making A Difference" and Mariam Ansar's piece about her right to wear or not wear her hijab.
Go learn something, connect with others, celebrate Muslim women — the world will be a better place for it.