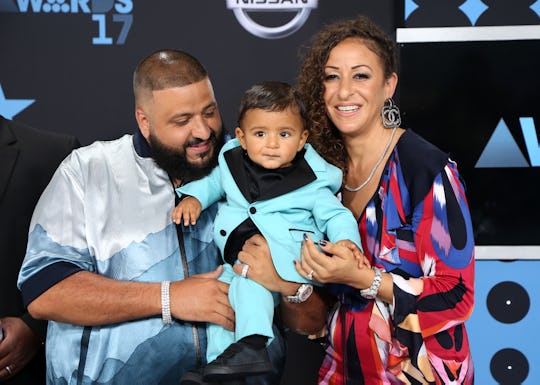 Maury Phillips/Getty Images Entertainment/Getty Images
Nicole Tuck's Instagram Proves She's A Busy Woman
DJ Khaled has had a busy year — not only has he been occupied with the release of his latest album, Grateful, but he's been attending music awards and raising his new son (and future prodigy), Asahd Tuck Khaled, with his fianceé, Nicole Tuck. Both Asahd and DJ Khaled have pretty active Instagram accounts, but Tuck herself isn't featured in too many of the photos, which makes people wonder what Asahd's mom has been up to these days. As Nicole Tuck's Instagram reveals, she's a pretty busy mom.
Tuck isn't on the social media platform too often, but when she does post on Instagram, it's usually to share cute pictures of her son and fiancé, praise the people she loves, or to promote the work of her favorite charities. According to the International Business Times, Tuck acts in an unofficial capacity as DJ Khaled's business manager and rep, so the couple are clearly comfortable working together while also living together. (DJ Khaled and Tuck have been dating for several years, and they welcomed the ever-smiling Asahd into the world in October 2016.) However, Tuck tends to keep her work off of social media and focus on cute little moments worth sharing.
Here's a quick tour of Tuck's Instagram profile. Get ready for a whole bunch of cuteness.
Adorable Asahd Pictures
Would you look at Asahd's huge smile? With a face like that, he's clearly going to be a star.
Promoting Charities' Work
Tuck is clearly a fan of Hope for Harvest, a non-profit organization in Charlotte, North Carolina that works to improve underserved youths' lives.
Documenting Her Travels
Whether she's heading to Santorini or Prague, Tuck is clearly a well-traveled woman who knows how to enjoy a good vacation.
Inspiring The Masses
Tuck and I apparently share the same guilty pleasure for inspirational phrases — uplifting and funny quotes can be found all over her profile.
If you'd like to check out Tuck's Instagram profile, she can be found at @therealnictuck. If what you're after is actually more pictures of Asahd, don't worry — the tiny tyke already has his own Instagram account, where he's constantly posing in tiny suits and getting to know big-name celebrities (apparently he was not too happy to meet Justin Bieber). Of course, DJ Khaled also posts his fair share of pictures of Asahd, so his profile is worth following as well (if you weren't already doing so).
Now that you've got the whole family on Instagram, happy browsing! (Because we all know there's no such thing as too many pictures of a tiny baby grinning at life.)