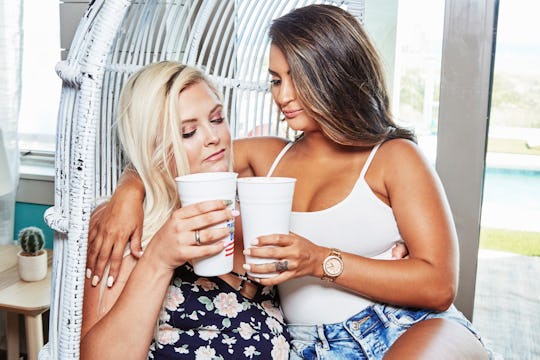 MTV
Nilsa Prowant's Instagram Proves This 'Floribama Shore' Star Values Friendship
The cast members of Floribama Shore have proven themselves to be very much their own people, as opposed to southern clones of the reality stars from the show's predecessor, Jersey Shore. And whether you love the cast or are just watching to see what they do next, you just can't look away, especially when it comes to some of the louder roommates, like Kortni Gilson and Nilsa Prowant. Which is why Nilsa Prowant's Instagram before Floribama Shore is all the more intriguing, even though it shows a side of her fans might not have expected.
Of course, we already know that she knows how to have a good time and party like no other in an unapologetic way that you have to admire, but Nilsa's Instagram shows another side of her from before the MTV cameras started rolling. Above all else, she seems to value friendship and the relationships in her life. Which is, again, something you have to admire about the reality star.
Nilsa has made some long-lasting friendships with her fellow castmates while filming the show's first season, but Nilsa also has a life away from Floribama Shore and her Instagram is a clear reflection of that, including the close friendships she seems to hold close to her. That doesn't necessarily mean we won't get a Snooki/JWoww type of girlmance with Nilsa and Aimee, but she definitely had a life before she was cast on the show.
Despite being cast on Floribama Shore, Nilsa is still all about the friends she had long before she was thrown into the beach house with seven strangers. In fact, she recently posted a photo of herself with a group of friends, one of whom she gave a shout out to for her birthday and mentioned having known since they were kids. In the caption, Nilsa added an endearing note that included
Screaming the biggest, loudest, and happiness birthdays to my numero uno human. I've been annoying her since we were like 6 years old… She was there with me the day I was found for #mtvfloribamashore and stood by my side and encouraged me every step of the way.. it's safe to say she's my number one fan and I am hers.
It would probably be relatively easy to forget about some friends or, at the very least, inadvertently neglect those friendships after becoming part of Floribama Shore, but Nilsa has seemed to have effortlessly kept her friendships in tact so far. And even before being cast on Floribama Shore, she was all about spending time and making memories with her BFFs.
Now, as a member of the Floribama Shore cast, it's probably easier for Nilsa than some to maintain her friendships, since they film in Panama City Beach, Florida, and she's actually a local. But regardless, it says a lot about a person to know that they value long-lasting friendships, which only makes me love her even more.
As with any show like this, including Jersey Shore and Party Down South, the cast becomes like a family and you usually hear them say as much at least a dozen times throughout the season, so as time goes on, Nilsa's Instagram will probably start to feature more of her fellow Floribama Shore castmates, but something tells me that she won't be forgetting where she came from anytime soon. I mean, it certainly helps that she doesn't have to go far from home to film the show, but it's obvious that Nilsa's priorities lie with those closest to her.
Check out Romper's new video series, Romper's Doula Diaries:
Watch full episodes of Romper's Doula Diaries on Facebook Watch.