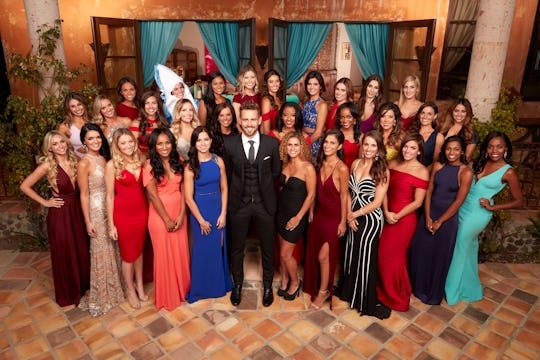 Courtesy of ABC/Disney
Stop Slut-Shaming Corinne From 'Bachelor In Paradise'
Earlier today, reports surfaced that ABC's Bachelor in Paradise had halted production due to possible "misconduct" on set. People reports that sources close to the show claimed that contestant DeMario Jackson allegedly had a sexual encounter with a female contestant who might have been too drunk to consent. While People's source did not name the female contestant, other outlets such as TMZ and BuzzFeed News reported that it was 24-year-old Corinne Olympios, prompting people on social media to slut-shame Olympios and blame her for getting the show's production put on hold.
Romper has reached out to both Olympios and Jackson, and we will update if we receive a response. In response to Romper's request for comment, Warner Bros. spokesperson Paul McGuire said in an email:
We have become aware of allegations of misconduct on the set of "Bachelor in Paradise" in Mexico. We have suspended production and we are conducting a thorough investigation of these allegations. Once the investigation is complete, we will take appropriate responsive action.
According to TMZ, initial reports claimed that Jackson had allegedly engaged in a sexual encounter in the pool with a female contestant. It was reportedly caught on camera by a producer who claimed that the situation was "uncomfortable" because Olympios was too intoxicated to consent. Blogger Reality Steve then added fuel to the fire when he shared a photo of the cast (sans Jackson and Olympios) at an airport, where they were reportedly flown to Houston amid the drama. According to tweets by LA Times writer Amy Kaufman, the show is rumored to be canceled for the duration of the season.
While much is still unknown about the incident, what we do know has been more than enough for people to jump to conclusions online and take to social media to voice their opinions. Some people have been quick to blame Corinne for the show being cancelled, while others are slut-shaming her, saying that such reports are unsurprising in light of Corinne's past behavior on the franchise.
For the uninitiated, Corinne was considered the "villain" of season 21 of The Bachelor, in large part due to her vocal displays of confidence and her openness about her sexuality. On one of the first group dates, Corinne removed her bikini top during a photo shoot, sparking a debate among the rest of the contestants as to whether or not she was "wife material." (FYI, wives can be overtly sexual, too.) As a result, she was habitually harassed and slut-shamed by viewers every Monday.
It's disheartening – but not surprising – to see that those attitudes would carry over to these reports as well. Even if the issue of consent wasn't in question, calling Corinne a slut or blaming her for halting production on Bachelor in Paradise would definitely not be OK. It takes two people to engage in a (consensual) sexual encounter, and the fact that few Bachelor fans seem to be calling out DeMario is troubling at best, infuriating at worst.
For the record, it doesn't matter if someone is drunk. It doesn't matter if someone has been sexual with other people (or the same person) in the past. If they cannot offer their consent for whatever reason, it is absolutely not OK for someone else to take advantage of their body.
But unfortunately, this is a common trend among audience members of the Bachelor franchise; when contestant Clare Crawley hooked up with Juan Pablo three years ago, she shouldered the brunt of the responsibility from both Juan himself and viewers alike. And when Kaitlyn Bristowe had sex with a contestant before the infamous "fantasy suites" episode, she was forced to apologize over and over for the rest of the season. The audience has a tendency to assign responsibility to women for for consensual sexual encounters, and that belief seems to be reinforced by some viewers who take to social media every week to live-tweet their (often condescending) commentary.
However, the current issue of slut-shaming and blame takes on a whole new level when we consider the fact that according to reports, Corinne might not have been able to give her consent. For the record, it doesn't matter if someone is drunk. It doesn't matter if someone has been sexual with other people (or the same person) in the past. If they cannot offer their consent for whatever reason, it is absolutely not OK for someone else to take advantage of their body. To fault Corinne for this situation is to enter the realm of victim-blaming.
Ultimately, there's still a lot we don't know about what happened on the set of Bachelor in Paradise. But there's one thing we should be able to agree on right now: if the allegations have even a grain of truth to them, whatever might have transpired was not Corinne's fault. We, as a society, have to do a better job of letting women know that no matter what the circumstances,their consent is essential, and cannot be made less essential by how sexual they are perceived to be. And every time we dismiss a woman as a "slut" – even those who only exist to us on television – it makes it that much harder for another woman to come forward with her own experience.
So, before you take to Twitter to offer your "witty" commentary on the Bachelor in Paradise situation, think about the consequences. You may think you're hiding behind a screen and 140 characters, but words matter, even – and sometimes especially – when they're written on the internet.
Update: Chris Harrison has released a statement on Bachelor in Paradise confirming that production on the show has been suspended. In the statement, the Bachelor host writes:
The safety and care of the cast and crew of our show is of the utmost importance to us. It is with this thought in mind that we made the decision to suspend filming. An investigation into the situation was started immediately. Warner Bros. is handling the details of that investigation. They're moving quickly to gather all the facts, and once that's done a clear concise decision can be made about where we go from here.
Harrison also wrote that the production team will keep viewers up to date, and that the producers can reach a "quick resolution" and "get back to work very soon."