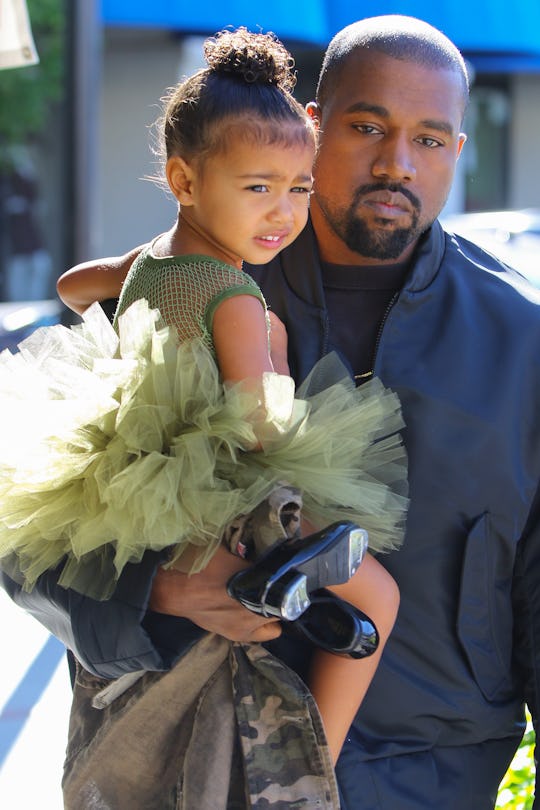 Bauer-Griffin/GC Images/Getty Images
North West Dresses Up As Elsa From 'Frozen' & It's As Fabulous As You'd Expect
Just in case you didn't already know that North West's toddler life is way more glam than most people's will ever be, her hairstylist to the stars, Jen Atkin has the picture to prove it. North West dressed up as Elsa and got her hair done professionally by Atkin for her role in a kiddie production of Frozen.
Just a day after the world was finally given the opportunity to gaze upon the gorgeousness that is Saint West, celeb hairstylist behind Kim Kardashian West's luscious mane — that blonde, braided wig from a week ago notwithstanding — posted an Instagram photo of the adorable North all dressed up in her fancy, off-the-shoulder Princess Elsa outfit, getting the perfect finishing touches on her polished high bun.
Now, I can already hear the Disney purists out there clucking that Elsa rocks a braid not a ballet bun, but, listen: Kim just ditched those bleach blonde braids from Fashion Week and I don't want her to get any ideas about going back. North, on the other hand, has baby toddler hair that's just a little too short to pull off that long Elsa braid, so I'd say Atkin's instincts to go for the princess bun are right on.
Another potential Nori/Elsa bun controversy might be spraying hairspray on a toddler. I don't think there's anything wrong with it occasionally, particularly before a big performance, but others might disagree. You do you.
Here's the darling snap along with the sweetest caption. "Final touchups on 'Elsa' while she studies her part in 'Frozen.' #North #ILoveThisLittleBunny #MyEasiestClient"
I'm also so impressed with how well North is behaving while she's getting her hair done. Nori's still only 2 years old. There aren't many kids that age who would be able to hold still and work on her part in a play at the same time. Pretty impressive. But, then again, she's got showbiz in her the family. I have a suspicion this won't be the last publicized shot of North being glammed by her squad.
So cute.