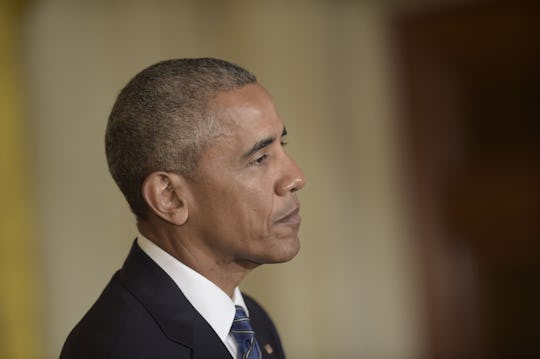 BRENDAN SMIALOWSKI/AFP/Getty Images
Obama Calls On Republicans To Withdraw Their Support Of Trump In A Huge Move
Right on the heels of the first Republican politician's announcement that he'd be crossing party lines and voting for Hillary Clinton in November, President Barack Obama made quite the Trump denouncement himself: On Tuesday morning, he called for Republicans across the country to rescind their endorsement of Republican nominee Donald Trump. "If you are repeatedly having to say in very strong terms that what he has said is unacceptable," Obama asked Republicans, "why are you still endorsing him?
The president made his suggestion to Republicans during a news conference in the White House, standing next to the visiting Singaporean Prime Minister, Lee Hsien Loong. "What does this say about your party that this is your standard-bearer?" he asked. "There has to come a point at which you say, 'Enough.'"
Obama didn't stop there, either. He punctuated his request with a ringing denouncement of Trump, saying:
I think that the Republican nominee is unfit to serve as president. I said so last week, and he keeps on proving it. The notion that he would attack a Gold Star family that made such extraordinary sacrifices on behalf of our country. The fact that he doesn't appear to have basic knowledge around critical issues in Europe, in the Middle East, in Asia means that he's woefully unprepared to do this job.
Obama also went the unusual route of singling out specific Republicans, including House Speaker Paul Ryan, Republican Senate Majority Leader Mitch McConnell, and Arizona Sen. John McCain, all of whom have denounced some of Trump's actions while still rallying around the nominee.
New York Rep. Richard Hanna was one step ahead of Obama on Tuesday, having published an op-ed for Syracuse announcing his support for Clinton. "Months ago I publicly said I could never support Trump," he wrote. "I never expect to agree with whoever is president, but at a minimum the president needs to consistently display those qualities I have preached to my two children: kindness, honesty, dignity, compassion and respect. I do not expect perfection, but I do require more than the embodiment of at least a short list of the seven deadly sins."
Hanna, who will be retiring in January, made it clear in his op-ed that he would be going further than denouncing Trump's comments. He ended his article by announcing that he'd be crossing party lines to vote for a Democrat in November, writing:
While I disagree with her on many issues, I will vote for Mrs. Clinton. I will be hopeful and resolute in my belief that being a good American who loves his country is far more important than parties or winning and losing.
With both the country's current president and a sitting Republican member of the House calling Trump "unfit to serve," many are hoping that others in the GOP will follow suit.