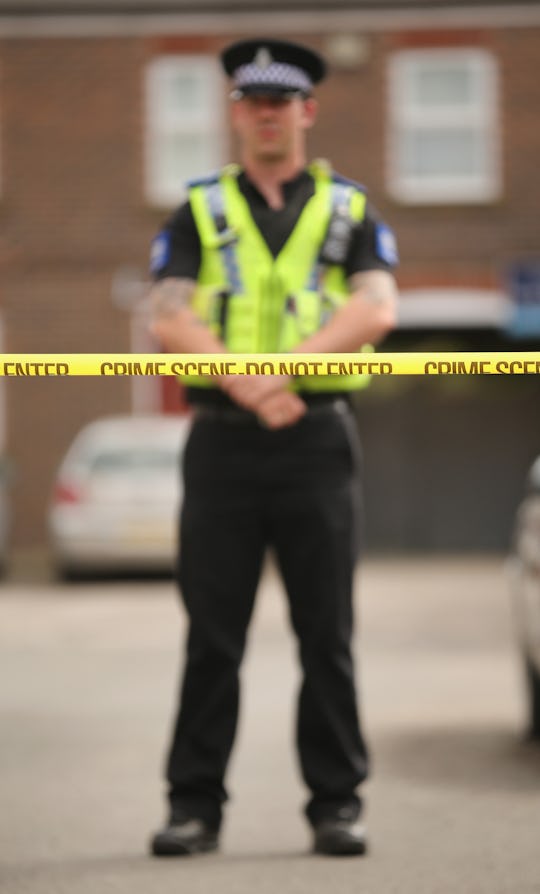 Christopher Furlong/Getty Images News/Getty Images
Off-Duty Black Officer Shot By White Colleague
A police officer in St. Louis, Missouri was shot on Wednesday night. There was an alleged attempted car theft, and officers gave chase to the suspects in question. An off-duty black officer was shot by his colleague, who claimed it was an incident of "friendly fire." Only the officer in question doesn't seem to agree with that assessment.
According to a statement released by the city's Metropolitan Police Department, the off-duty officer was in the neighborhood where the alleged car theft had taken place. When officers stopped the stolen vehicle with spike strips, the 11-year veteran (whose name has not been released) came out with side firearm to assist with the situation. After on-duty officers asked him to get on the ground and he complied, they recognized him. All except one white officer, a 36-year-old, eight-year veteran of the force, who was reportedly just arriving on the scene:
At this time, a responding officer (36-year old white male with over 8 years of service) just arriving in the area observed this and fearing for his safety and apparently not recognizing the off-duty officer, discharged a shot, striking the off-duty officer in the arm.
According to The St. Louis Post-Dispatch, the police department are considering the incident a case of "friendly fire" (a term used by law enforcement to explain the shooting of a non-hostile who is mistaken as a threat). According to the injured off-duty officer's lawyer... not so much.
Rufus Tate Jr., the lawyer representing the 38-year-old officer in question, told Fox News that the situation is emblematic of a deeper issue, one that points to a black man being "automatically feared:"
This is the first time that we are aware, that a black professional, in law enforcement, himself being shot and treated as an ordinary black guy on the street. This is a real problem. In the police report, you have so far, there is no description of threat he received. So we have a real problem with that. But this has been a national discussion for the past two years. There is this perception that a black man is automatically feared.
St. Louis Today reported that the off-duty officer was taken to hospital and treated for his injuries. He is said to be in good condition.
The news outlet also reported that, despite the police department's assertion that the incident was a case of friendly fire, all six of the officers who were present at the shooting have been put on administrative leave.