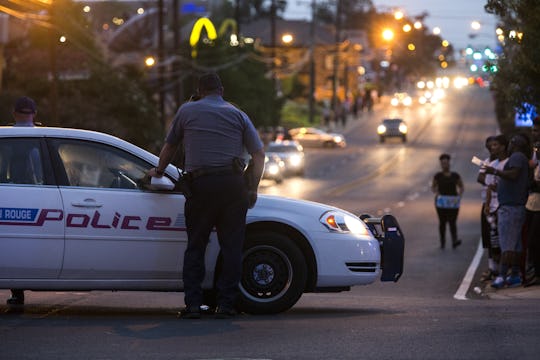 Mark Wallheiser/Getty Images News/Getty Images
Officers Shot In Baton Rouge, 3 Feared Dead
Three are dead after officers were shot in Baton Rouge Sunday morning, CNN reported, although authorities there are still working to fully understand what happened. The reeling city has been roiled in protests since July 5, when police officers killed Alton Sterling, a black man whose graphic death bystanders caught on video and shared with millions through social media. Now, officials there believe that the shooter has been neutralized and that the scene is contained, although the swelling racial tension between law enforcement officials and African Americans flooding across the United States and prompting similar attacks is anything but.
Kip Holden, the mayor-president of East Baton Rouge Parish, told CNN that the scene is still active, and it's not yet clear exactly where or under what circumstances the shooting took place. Early reports indicate that at least three officers are dead and at least seven others have been critically wounded as a result of a shooting that happened around 9 a.m. about a mile from police headquarters. Victims possibly include both police officers and sheriff's deputies.
Details about the situation are still emerging and changing, but an unnamed source told CNN that police received to a call of a "suspicious person walking down Airline Highway with an assault rifle," and that the person opened fire on them when they arrived. ‌
The reported shooting deaths of law enforcement officials in Baton Rouge are tragically reminiscent of the recent murder of five police officers at an otherwise peaceful Black Lives Matter protest in Dallas July 7. The shooter told police during a subsequent standoff that he was upset about Sterling's shooting death as well as that of Philando Castile, another unarmed black man killed by a police officer during a traffic stop in Minnesota the day after Sterling, and the day before the Dallas massacre. Before police killed the shooter, he told them he had specifically intended to kill white police officers.
The relationship between Baton Rouge police and activists has deteriorated as protesters speak out against the way Sterling died. About 185 who maintain they did nothing wrong were arrested while protesting last week, while officers said they were blocking the roadway. One of them was prominent Black Lives Matter activist Deray McKesson, who was among the 100 whose charges were soon dropped.
The latest tragic installment of this macabre saga comes just days after Baton Rouge police arrested three people over an alleged plan to harm police officers. There's not word yet about who the perpetrator in this case was, or whether authorities were previously aware of his desire to kill police. There's also no official confirmation of motive, although the preceding incidents across the country suggest a sad precedent.