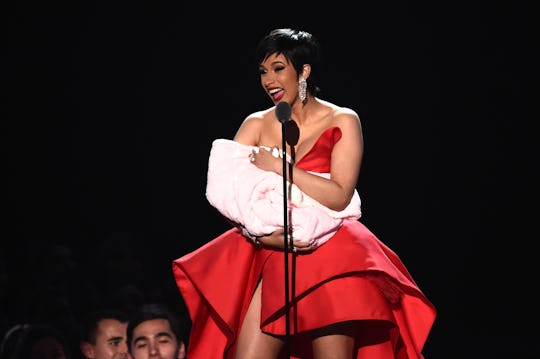 Michael Loccisano/Getty Images Entertainment/Getty Images
Even Offset Fell For Cardi B's Baby Kulture Fakeout At The VMAs
Cardi B pulled a fast one at the 2018 VMAs on Monday night when she appeared on stage with a swaddled blanket pulled close to her chest. Just about everyone assumed 1-month-old Kulture was underneath the blanket, especially since Cardi B is known for her epic surprises (remember when she unveiled her pregnancy on Saturday Night Live?). But fans who watched the show already know Cardi B had a Moon Man trophy underneath the blanket instead of Kulture, a fact that didn't go unnoticed by her fiancé, Offset. It turns out Offset fell for Cardi B's VMAs skit hook, line, and sinker, and he wasn't too happy about the joke. Hey, at least Cardi B now knows her acting skills are on point.
Immediately after Cardi B gave birth to Kulture in July, fans wondered when they'd get to see the first picture of the little one. Sadly, this day hasn't come yet, and people are getting antsy about the situation. Although Cardi B and Offset are under no obligation to ever show Kulture's face, it's reasonable people are curious.
Well, it looks like Cardi B decided to have a little fun with all of the speculation because she graced the VMAs stage with a pink blanket in her arms. "I got a little surprise for y'all, you know what I'm saying?" Cardi B teased the crowd, Harper's Bazaar reported.
Seconds later, however, Cardi B unraveled the blanket to reveal her Moon Man trophy for best song of the summer. Way to fool the crowd, girl.
Following the sneaky monologue, Cardi B took to Twitter reveal Offset also fell for the gag. "Why Set said i was sooo mad, when i saw you on stage with that blanket," Cardi B revealed "I thought you was going to show Kulture."
Ha — I guess Cardi B didn't consult Offset about her VMAs skit beforehand. I can only imagine what was running through Offset's mind when he saw Cardi B emerge on stage with what appeared to be Kulture. Priceless.
Although Offset has yet to speak out publicly on the prank, a GIF of his face during it says all that needs to be said. You don't have to be a body language expert to tell Offset was p-i-s-s-e-d about the whole thing.
So, why was Offset upset about Cardi B potentially showing off Kulture to the world? The likely answer boils down to their possible plans to reveal a photo spread of baby Kulture in the near future. It's not uncommon for celebrities to license the first photos of their babies to a publication prior to giving birth, for example. Of course, this is just speculation.
Another possibility here is privacy. It's not far off to assume Cardi B and Offset don't want to share Kulture's face for the time being — the infant is not even a year old, after all. And Cardi B did once admit she's worried about how people on social media will react to her daughter. "I'm iffy about it," Cardi said about posting photos of Kulture to the 'gram, according to ET Online. "My feelings get hurt when people online talking about family members. I think I'll kill somebody if somebody talking about my child life that."
Either way, it's obvious people are still itching to see the first photo of baby Kulture. Curious fans should rest assured, however, that there's a good chance Cardi B and Offset have already made plans about when and how they'll debut Kulture's face. Until then, Cardi B's supporters can revel in the fact that she duped Offset in an epic way. You got to love the new mom's penchant for comedy, right?