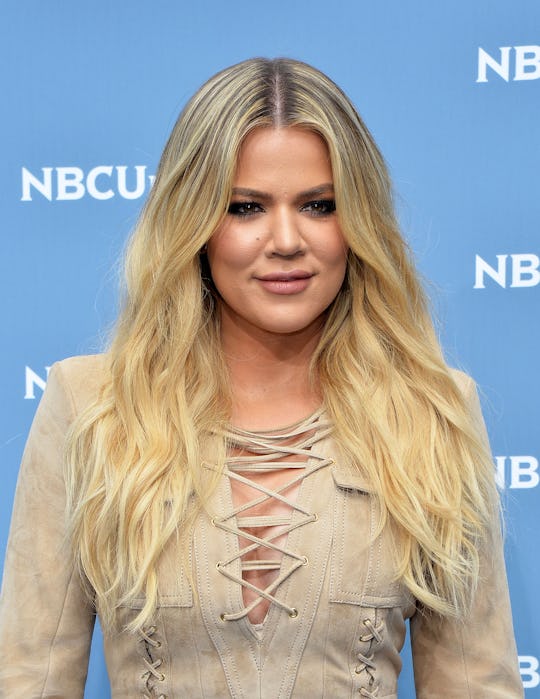 Slaven Vlasic/Getty Images Entertainment/Getty Images
Khloe Kardashian's Latest Post Of Tristan Thompson & True Is Damn Cute
Like many other Khloé Kardashian fans, I was very opposed to the reality star forgiving Tristan Thompson for a long time. News of his alleged infidelity nearly overpowered news of baby True's birth, and multiple outlets reported that she was heartbroken over the reports. However, in the last few weeks, the two have been showing mad love for each other on social media, and I'm starting to see that maybe Thompson is deserving of Kardashian's love. Maybe. For example, Khloe Kardashian's latest post of Thompson and True makes it clear how much he loves their baby girl.
Kardashian took to Snapchat to share a tender moment between her boyfriend and their daughter this week. In the video she shared, Thompson is carrying True and dancing with her in her nursery to a song playing softly in the background. "We gonna dance, baby," Thompson coos to his daughter in the clip. While dancing, he plants a few smooches on her cheeks. The tiny 3-month-old looks adorable cuddled up to her 6-foot-9-inch father, and from the way Thompson is looking at True, there's no doubt that he's happy to be having a tender family moment — and to be in his girlfriend's good graces again.
You can watch the full Snapchat video here.
Rumors of a Kardashian-Thompson relationship first arose in August 2016, according to Us Weekly. In December 2017, the Good American designer confirmed that she was expecting a baby, and the couple welcomed True on Thursday, April 12, in Cleveland, Ohio, where Kardashian moved to live with Thompson, who plays for the Cleveland Cavaliers. However, in the days before Kardashian gave birth, the Daily Mail published footage of a man appearing to be Thompson kissing another woman, reportedly taken that very week. Then, TMZ published additional footage of a man purported to be Thompson kissing yet another woman — and cuddling up with yet another woman — allegedly filmed in October. Romper's requests for comment from both Kardashian and Thompson's representatives at the time were never returned.
Since then, fans have wondered about the true state of the couple's relationship. Giving birth just days after finding out your partner may have cheated on you is no easy task, and neither is raising a newborn with a man who was reportedly unfaithful. But after weeks of silence on the matter, the duo are making it clear that they are sticking together. In addition to the adorable video of Thompson and True dancing, Thompson shared a Snapchat video of the two earlier this week, BET reported. In the clip, Thompson is enthusiastically singing and rocking out to a song playing in the background. Kardashian is a bit more subdued, resting her head on Thompson's shoulder at one point, and Thompson even initiates a kiss on the lips.
Additionally, Thompson seems to have repaired his relationship with some of Kardashian's more skeptical family members. At Kardashian's birthday party in late June, her sister Kim posted a video to her Instagram story of herself asking fans if she should ask Thompson to unblock her on Instagram, The Cut reported. "For Khloé's birthday it's only right. I got you," Thompson replied, and they documented the moment on Kim's Insta story, according to The Cut. Kim had previously discussed the cheating allegations on The Ellen DeGeneres Show in late April. "Poor Khloé," Kim told DeGeneres, according to People. "Like, I don't even know how to describe it besides it's just so f—ed up."
No matter what's going on with Thompson and Kardashian's relationship, it's evident that True is surrounded by so much love from both of her parents.