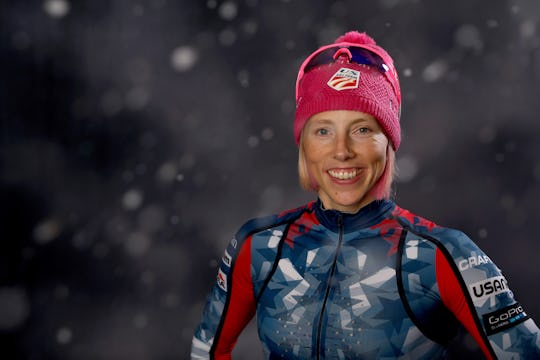 Ezra Shaw/Getty Images Sport/Getty Images
This Is How Kikkan Randall Juggles Motherhood & The Olympics, & Every Mom Will Relate
If you've kept up with the 2018 Olympic Games thus far, you've probably noticed that the competing Olympians in PyeongChang, South Korea are pretty incredible. From the amazing athletic skill (I'm still in awe about Team USA's Mirai Nagasu landing the elusive triple axle) to the next level dedication, it almost seems like the Olympians are superhuman, especially when you consider that some of them, like Olympic cross-country skier Kikkan Randall, are also parents. Of course, Olympians are really no different from your average person at the end of the day, and if you're looking for solid proof, look no further than Kikkan Randall's relatable quotes about parenting. Similarly to other parents, Kikkan relies on a large network of support to get through each day.
In April 2016, Randall and her husband, Jeff Ellis, announced the birth of their first son, Breck. "We are overcome with love and amazement for this little guy," Randall and Ellis said in the cute announcement, according to the Olympian's official website.
The birth of Breck marked a big shift in Randall's life, to say the least. Before Breck, Randall, a four-time Olympian, didn't have to worry about working out her postpartum body too hard or about childcare issues. With the arrival of Breck, however, she needed to make a number of adjustments in her life to keep her Olympic career alive. Spoiler alert: Randall needed help.
As the only mom on Team USA, Randall is already an inspiration to many. But to me, it's Randall's candid confessions about motherhood that truly make her stand out as a role model. Randall isn't afraid to tell it like it is or to admit her vulnerability as a parent, which is something I bet many fellow parents out there will find incredibly refreshing.
So, who is Randall relying on for help during the 2018 Olympics? It turns out Breck's grandparents are holding down the fort while Randall is competing in PyeongChang. Randall told HuffPost:
I won't get to see him for a full month, which is going to be really hard because I've just gotten so adapted to life chasing around a toddler. But he is doing great with his grandparents. I FaceTimed with him tonight, and he's having a great time. I know he's in a good place, so now I can focus on what I need to do.
Yep, similarly to many moms and dads around the world, Randall often depends on family members to babysit. And who knows, maybe Randall read the study that found grandparents who babysit tend to live longer.
Next up on the list of helpers is Ellis, who accepted a job with the International Ski Federation, according to Faster Skier, so he could be present during Randall's winter competitions in Europe and have full availability in the summer. Randall said of Ellis' flexible career, according to HuffPost:
It was great because we could actually see each other, and now it allows him to be available in the summer to take care of our son while I'm out training twice a day.
Ah yes, the joys of co-parenting. If you've ever compromised on your schedule or career for the sake of your kid (way to take one for the literal team, Ellis), this quote probably hits home for you.
But Randall's most relatable quality is that she's real about her situation. Randall said of her fantastic support system, according to HuffPost:
Without that support, there's no way I'd be able to do it. I've been able to come home from training, and he's there. We get to spend so much time together, which is wonderful.
I find it really awesome that Randall is honest about her need for help, because there's nothing wrong with needing support. It's OK to rely on others and it doesn't make you less of a parent if you do. So, bravo to Randall for admitting that her success isn't a solo effort. And it's this type of transparency and vulnerability that makes Randall one of the most relatable Olympians out there.
Check out Romper's new video series, Bearing The Motherload, where disagreeing parents from different sides of an issue sit down with a mediator and talk about how to support (and not judge) each other's parenting perspectives. New episodes air Mondays on Facebook.