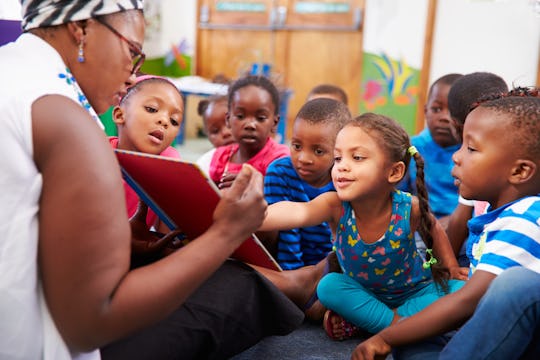 Monkey Business Images/Shutterstock
13 Preschoolers Share Their Favorite Thing About Their Teacher
If any group of people deserve an entire week of appreciation, it's teachers. And preschool teachers in particular deserve a unique tip of the hat. I have one preschooler, so I can't imagine being responsible for the education and wellbeing of a dozen! A lot of parents stress about what gift to give their child's teacher during teacher appreciation week, but most teachers will tell you they'd be happy with a simply thank you. So I thought I would help preschoolers share their favorite thing about their teacher. Not only is it nice, but some of the answers are pretty funny in the way only a preschooler trying to be complimentary and earnest can be.
I'll be honest with you: the most common answer among all the children was "I don't know," which, if you've ever talked to a preschooler, makes sense. I feel like, at the notorious preschool age, it's hard for kids to adequately articulate their thoughts about other people, because they're only just starting to think of the rest of the world existing outside of themselves. It's not their fault, of course. That's just where their brains are, developmentally.
But, when pressed to think a little bit deeper, the kids I talked to (through their parents) had lovely things to say about their educators. Yes, the following lovely things still revolved around the stuff said educators did for the kids in question, but like I said: letting go of egocentrism is a process and takes some time.