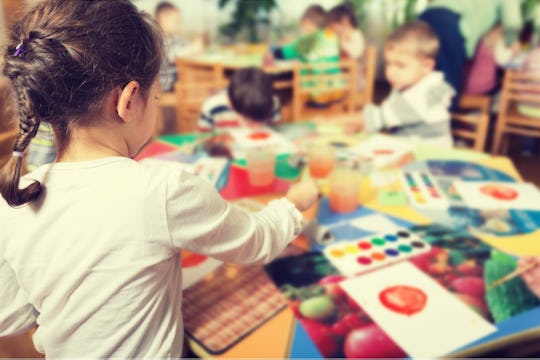 BillionPhotos.com/Fotolia
21 Kindergartners Give Back-To-School Advice To Preschoolers
As parents, we do everything we can to prepare our kids for the start of their education. We send them to preschool, attend orientation, and give them instructions on what to do — and what not to do — when they get to kindergarten. And then we watch them venture off into their schools, terrified and excited and hopeful for our babies and their futures. But, as parents, we're not the only source of back-to-school information or support. Romper spoke to 21 kindergartners and asked them to to share their back-to-school advice for preschoolers, because who better to dish on the ins and outs of kindergarten than kindergarteners themselves, right?
My middle child is a new kindergartner and is still pretty ambivalent about the whole thing. So far, he's most excited about riding the bus, going to the library, and playing with his friends. The whole sitting still and staying quiet thing, though? Yeah, he's still working on that part. Today, after school, he told me that sometimes he wishes he could just stay at home with me, and I have to admit I cried a tad. Turns out, my kid starting kindergarten was a big adjustment for me, too.
But we both know we're not the only ones figuring out kindergarten. I have the solidarity and support of a slew of parents who are going through the same thing, and my son has an entire classroom of kids who are attending kindergarten for the first time, too. And, not surprisingly, we're all getting the hang of things and adjusting to this new milestone and what it means for all of us on our own terms and in our own time.
But having all the information we can find has helped my kid and I adjust to the best of our abilities, which is why I'm not above asking kindergarteners for any advice. So with that in mind, here are some hilarious, honest, adorable pieces of back-to-school wisdom from brand new kindergarteners. They know what they're talking about, folks.