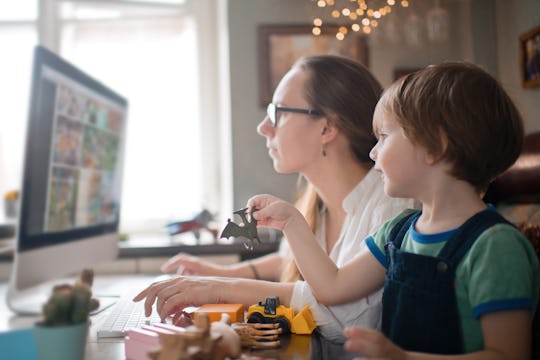 ArtMarie/E+/Getty Images
5 Things Experts Want Parents To Stop Worrying About During The Pandemic
On top of worrying about the health of friends and family during this pandemic, every single parent I know is being extra hard on themselves right now — myself included. But y'all, there are things experts want parents to stop worrying about during the pandemic, OK? We have enough things to stress and worry about, and screen-time, planning epic enrichment activities, and worrying about whether your kids are bored shouldn't be on that list.
Our 2-year-old son had very limited to no screen-time whatsoever until this pandemic happened. And now Elmo is his idol and it's all he asks about. Guys, I am feeling so guilty but sometimes, it just had to happen so my husband and I could get stuff done for work. Usually one of my parents would be here to help me during my work shift to ensure he didn't have to be plopped in front of the TV. But now since my parents are definitely high-risk of catching COVID, they haven't been over, and I know many other parents are in the same boat.
Adding to my guilt is the fact that up until now, our son attended a Montessori school. Now I'm not sure what you know about Montessori, but to put it simply, it's a very "analog" way of raising your kids. Kids' playtime is focused around activities that inspire them to be excited about learning and it's filled with a lot of open-ended play. In fact, playtime is also referred to as their "work," and there are absolutely no screens allowed until they are at least 6 years old — in a perfect world.
So not only is my kid now watching Elmo in the evenings, but we also don't have time to craft these epic and beautiful Montessori prepared environments like I'm seeing some of the moms do on Facebook. We are simply doing our best and setting up toys and activities to the best of our ability. And they are not Pinterest-worthy, guys.
But according to experts, none of us should be stressing so much about the following five things, including creating social media-worthy enrichment activities. (But hey, if that's something that makes you happy, then go for it. Just don't stress about it.)