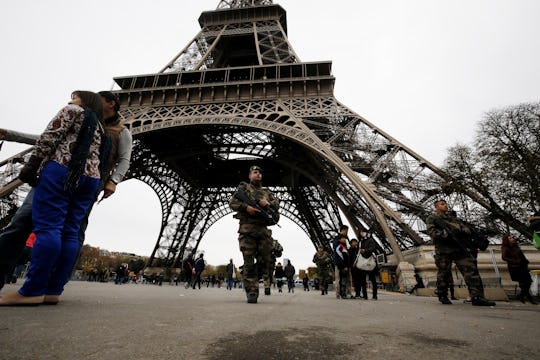 Paris Attacks Mastermind, Abdelhamid Abaaoud, Confirmed Dead By Paris Prosecutor
Following a raid in the Paris suburb of Saint-Denis Wednesday, Abdelhamid Abaaoud, mastermind of the Paris attacks, was confirmed dead by French authorities Thursday. The French prosecutor's office announced that through the use of prints found on the remains of one of the suspects killed in the Saint-Denis police raid before dawn Wednesday, Abaaoud was identified as one of those who died. Until Thursday, there had been no confirmation of his whereabouts, only that he was not among those arrested and taken into custody after the raid. CNN reports that another suspect in the attacks that killed 129 people and injured over 350 in Paris on Nov. 13 is still at large. Belgian police conducted six raids in Brussels Thursday morning looking for additional suspects.
The target of the Saint-Denis raid was a small apartment near the Stade de France, the stadium where two of the Nov. 13 suicide bombings took place. Intelligence suggested that Abaaoud, thought to be the architect of the coordinated attacks, might be staying there. Around 4:20 am, gunfire erupted, with police firing 5,000 rounds of ammunition. A woman detonated a suicide bomb, leading to the collapse of part of the building. The army arrived at 7 a.m. with two suspects still alive inside the apartment. More shooting and grenade explosions ensued, and the operation ended a little after 11:30 a.m. Eight people were arrested following the raid, but the prosecutors office said Wednesday that Abaaoud was not among them. The Washington Post reported Wednesday that, according to two senior European officials, the presumed mastermind had died in the raid, but that report went unconfirmed until Thursday.
In its announcement Thursday, the Paris prosecutor's office said it wasn't clear whether Abaooud blew himself up or not, but his body was found riddled with bullets, CNN reported. The other person who died in the raid was the female suicide bomber.
Image: FRANCOIS GUILLOT/Getty Images News