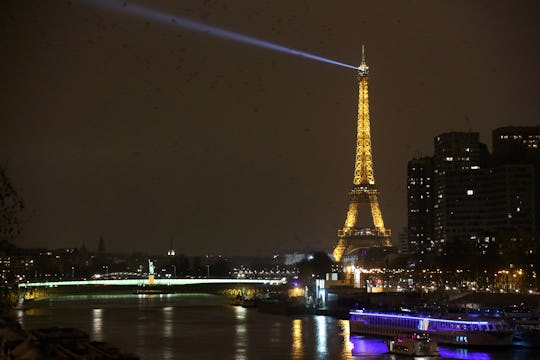 LUDOVIC MARIN/AFP/Getty Images
Paris Changes Twitter Avatar To Belgian Flag After Brussels Attack, Because Parisians Know What This Feels Like
In the wake of the attack that rocked Brussels Tuesday, including explosions at the airport and a subway station, the city of Paris changed its Twitter avatar to the Belgian flag to show solidarity with Brussels. As the TODAY show noted on Twitter, the city's Twitter account now features the black, yellow, and red of the Belgian flag behind the French capital's logo.
(Update: ISIS has claimed responsibility for the terror attacks in Brussels Tuesday. The death toll has risen to at least 34 killed and at least 170 wounded, according to CNN.)
According to CNN, multiple explosions occurred in Brussels Tuesday, leading to climbing number of injuries and fatalities. The exact death toll in Brussels is not yet known, and no group immediately claimed responsibility for the violence. At least two explosions occurred in the Brussels Airport departure lounge, according to the Associated Press, and one in the Maelbeek station of the Brussels Metro subway system. The station is located close to European Union headquarters.
The attack comes just days after authorities captured Salah Abdeslam, a suspect in the deadly attacks on Paris, Nov. 13, in Brussels. According to CNN, Belgian Prime Minister Charles Michel told reporters Tuesday, "We were fearing terrorist attacks, and that has now happened."
The multiple explosions at more than one location felt very reminiscent of the Paris attacks. Most of the carnage occurred at a restaurant, La Belle Equipe, where 19 people died, and at the Bataclan night club, where 89 people died, according to CNN. The Paris attackers, many of whom detonated suicide bombs, hit several other targets as well. On Nov. 14, ISIS claimed responsibility for the attack. French authorities killed the ringleader of the attackers, Abdelhamid Abaaoud, in a raid in the Paris neighborhood of St. Denis, on Nov. 18, but that couldn't undo the deaths that had occurred, the enormous losses suffered by their families, the physical and emotional injuries survivors have to live with going forward, or the atmosphere of fear the Paris attacks created.
In the wake of the Brussels attack, Brussels is on lockdown, according to RT.com, as Paris was after Nov. 13, but that isn't stopping Paris from doing what it can to show the citizens of Brussels that they aren't alone. France's Le Monde newspaper posted a cartoon from the well-known cartoonish Plantu representing France and Belgium huddled together in both love and tragedy:
In another show of solidarity, the mayor of Paris, Anne Hidalgo, tweeted that the Eiffel tower will be lit with the colors of the Belgian flag on starting Tuesday night, according to The Independent.
Because for the people of Paris, the attack on Brussels feels all too familiar, and too soon.