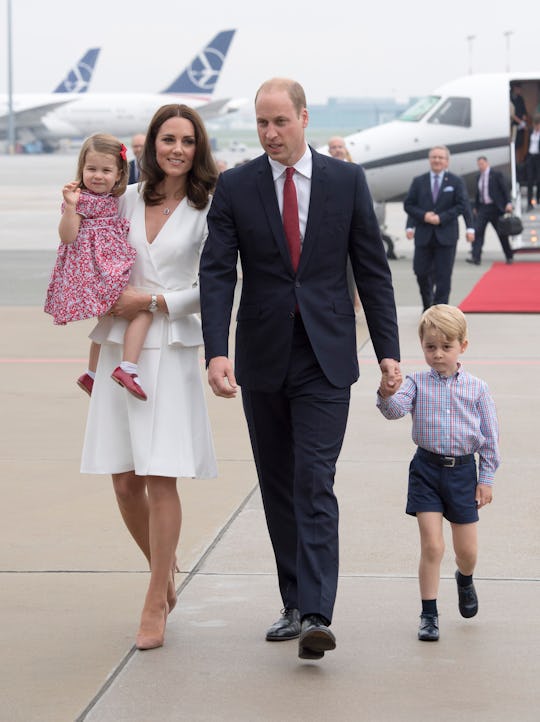 Pool/Getty Images Entertainment/Getty Images
Did Kate Middleton Just Hint At Another Pregnancy?
While touring Poland and Germany with her family this week, Kate Middleton made an offhand comment suggesting that more royal babies are on the way. But how seriously can we take her joke? People are convinced Kate Middleton just hinted at another pregnancy, which calls for a full, international investigation. Are George and Charlotte getting a new sibling?
It all started when the royal family met with Polish businessperson Julia Sielicka-Jastrzebska, co-founder of Whisbear, aka the company that makes whispering, sleep-inducing bears. Middleton and her husband, Prince William, were offered one of the toys to take home with them. Seeing as their kids are no longer infants, the toys wouldn't be of much use, prompting Middleton to joke: "We'll just have to have more babies," to her husband. Many are now wondering how seriously they should take Middleton's aside.
This isn't the first speculation of a third addition to the royal family because, let's be real, people are looking for any reason to conjure up a new baby. Middleton wore a loose-fitting dress this March, and even that had tabloids ablaze. Reports that Middleton is pregnant with baby number three circulate often, but they're never proven to be true— at least, not yet.
Let's look at the facts, here. Middleton's firstborn, Prince George of Cambridge, is 3 years old, and was born on July 22, 2013. Her daughter, Princess Charlotte, is 2 years old and was born on May 2, 2015. Following that pattern, it would seem that, if another baby is in the works, 2017 would be the perfect time.
Unlike most of our favorite celebs, the royals don't have candid Instagram accounts to give us the first scoop; All that they just have as far as social media goes is a shared profile that's properly and perfectly curated. Middleton won't drop a surprise pregnancy photoshoot or announce baby number three with a cute Boomerang, so little side comments like these are as close as we're gonna get to a social media exclusive.
The royal family's tour of Germany and Poland will continue for the next few days. They'll continue to visit with politicians, meet with emerging companies like Whisbear, and make their way through museums and landmarks. All of this can be tiring for young children, but George and Charlotte have been good sports, even if Prince George has been a little shy. As they finish up their trip, eyes and ears will stay tuned to Middleton's comments throughout, especially if potential royal babies are involved.