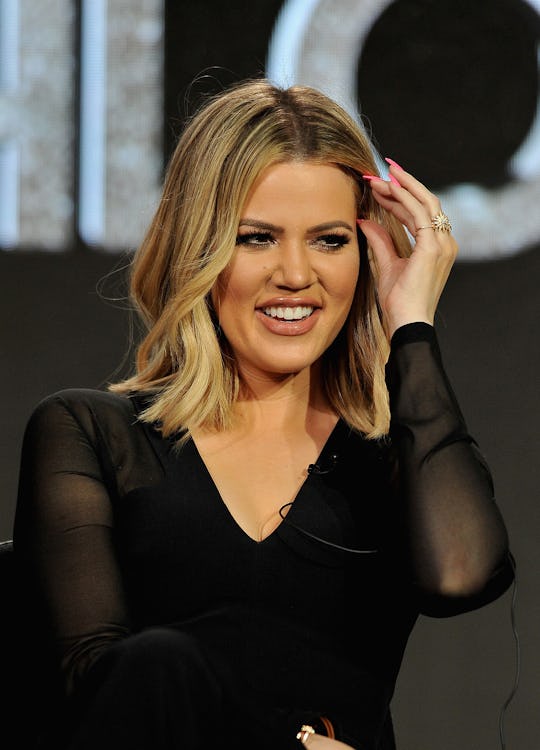 Jerod Harris/Getty Images Entertainment/Getty Images
People Are *Convinced* Khloe Kardashian Photoshopped Her Pregnancy Out Of This Pic
Ever since anonymous sources let it slip that Kylie and Khloé Kardashian are allegedly pregnant, people have been scouring social media looking for clues to confirm the news. The most recent installment of the Kardashian Bump Hunt came this week, when people became convinced that Khloé Kardashian photoshopped her baby bump out of an Instagram photo. But it's a tad more complicated than that.
Khloé has not confirmed the news of her pregnancy yet — Romper has reached out to her reps for comment, but has not heard back — so people are still torn about whether she's really expecting or not. Earlier this month, she posted pictures on Instagram of her modeling new clothes from her Good American line and people swore up and down that her peplum top was proof of a baby bump. Until Khloé herself shut them down in the comments with a cryptic message just explaining the cut of the shirt and not mentioning a baby bump at all.
Which, because people tend to assume the worst from celebs instead of treating them like human beings, led some fans to assume that she's "ashamed" of her pregnancy. The picture she posted on Monday of her kissing her boyfriend, and alleged father of the baby, Tristan Thompson didn't help. In the pic, she's leaning in for a kiss and her tummy looks pretty flat.
And Thompson's hand looks a little blurred at first glance, which is something that happens when you photoshop a picture.
Here's The Original
And Some Of The Comments
And we all know that Khloé isn't against altering her pics. She told People, "Of course I believe in airbrushing apps. Who doesn't love a good filter? I just think airbrushing apps, like who doesn't want to airbrush a thing here or there. I love FaceTune, that one's great. I don't really know of many more, but a filter, that's like airbrushing."
So if she wanted to keep her baby bump a secret (like for the sake of the upcoming Keeping Up with the Kardashians) she might not be against photoshopping.
Not like it matters, but it really doesn't look like she altered the photo at all. As Ellie Woodward from BuzzFeed News aptly points out in her own investigation of the photo, when you zoom in, you can see that Thompson's hand isn't blurry or cut off — it's tucked under his hand and the light makes it hard to see.
In addition to that, this is definitely an old picture. On Monday, just hours after posting this image, she posted a Snapchat of herself hanging out with Dream in Los Angeles with a whole different hair game.
The picture in question was also not taken at Khloé's house and appears to have been snapped while she and Thompson were on vacation this summer. So, on all accounts, Kardashian is more than likely not photoshopping her baby bump, if she's even pregnant to begin with, out of pictures.
If the pregnancy rumors are true, though, Khloé wouldn't be that far along anyway and is likely not showing. She's supposedly behind her sister Kylie who's allegedly now five months pregnant, according to TMZ, so looking for a bump is sort of useless at this point. Although that doesn't mean that both sisters aren't enjoying playing with people's interest in their reported pregnancies.
Just last week, they posted a selfie together with a filter but it was just of their faces. Of course, the comments were filled with a ton of "pregnant or nah" type questions. On one hand, it seems unfair to scrutinize every single picture the two sisters post for a possible baby bump. Then again, the Kardashian and Jenner sisters are usually pretty forthcoming about the details of their life, so it is frustrating that no one has officially confirmed or denied these pregnancy rumors yet.
Photoshop or not, both Khloé and Kylie will surely let everyone know when they're ready. Maybe they're just waiting to come up with a next level announcement pic to break the internet with. Give them time.
Watch Romper's new video series, Romper's Doula Diaries:
Check out the entire Romper's Doula Diaries series and other videos on Facebook and the Bustle app across Apple TV, Roku, and Amazon Fire TV.