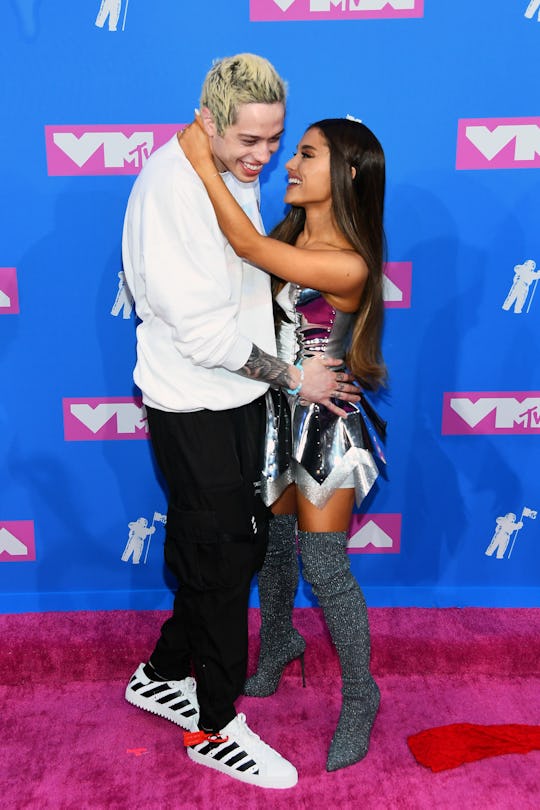 Nicholas Hunt/Getty Images Entertainment/Getty Images
People Are Pissed Pete Davidson Joked About Tampering With Ariana Grande's Birth Control
Since getting together a few months ago, Pete Davidson and Ariana Grande have only shared a few details with the public about their whirlwind relationship. And while fans of the couple typically eat up each and every tidbit either of them share, the latest piece of info was not quite as well-received. On Saturday Night Live this weekend, Pete Davidson joked about tampering with Grande's birth control — and people are pissed.
During the "Weekend Update" segment on SNL Saturday night, Davidson joined host Colin Jost behind the desk to catch up on his summer, as People reported. In Davidson's few public appearances talking about Grande, he has put on a can-you-believe-she-picked-a-schlub-like-me attitude, which usually gets a lot of laughs. He continued that on SNL, saying, "She pays like 60 grand for rent, and all I have to do is like, stock the fridge...yeah."
"Well, the man doesn't always have to be the breadwinner in a relationship," Jost told him. "Goddamn right, Colin! He does not," Davidson replied. "Last night I switched her birth control with Tic-Tacs," the actor added, to which the audience responded with a cringe-y outcry. "No! I believe in us and all, but I just want to like make sure that she can't go anywhere," he added.
Representatives for Davidson did not immediately respond to Romper's request for comment on the backlash.
Even though Saturday Night Live is a scripted comedy show where almost nothing is off the table, trying to secretly get your fiancée pregnant is not the best thing to joke about. It's also likely that Davidson did not write his lines, but because he was playing himself and not a character, the joke seemed to hit viewers hard. And many took to Twitter to criticize the comment, and to explain exactly why it isn't something to joke about.
"Generally I thought Pete Davidson was funny, but until birth control sabotage stops being a common form of abuse and a way abusers trap women in dangerous relationships, I'm not going to laugh at that joke," one Twitter user wrote.
Some people pointed out how this was not the right timing for a man to joke about taking advantage of a woman's body, considering the current investigation into President Trump's SCOTUS nominee Brett Kavanaugh sexual assault allegations.
And plenty of others tweeted virtual eye rolls.
Yes, Davidson does often sound as though he's in wondrous disbelief when publicly talking about his bae. For example, in an appearance on The Late Show last week, Davidson told host Seth Meyers about the couple's new pet pig, Piggy Smallz. "This girl was like, 'I want a pig,'" Davidson said on the show, as Billboard reported. "And then an hour later, it was just there. You know what I mean? Like, I'm still trying, to get, like, a Propecia refill…this chick got a pig in a f—king hour."
Being an A-list celebrity seems to be still pretty new for Davidson, but that's no excuse for joking about tampering with his partner's birth control. Hopefully Grande appreciates her fiancé's sense of humor more than other people seem to with this joke.