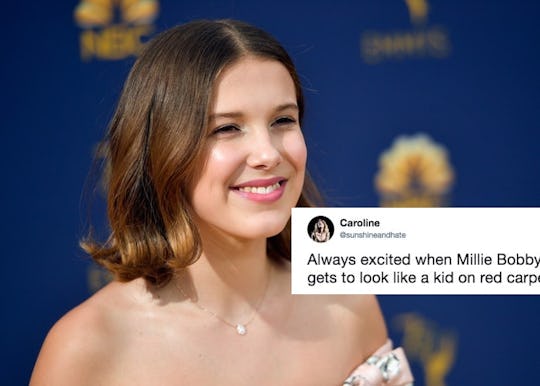 Matt Winkelmeyer/Getty Images Entertainment/Getty Images
People Are Praising Millie Bobby Brown For Dressing Her Age At The Emmys
Millie Bobby Brown may be 14 years old, but she's already a fashion icon. The Stranger Things star constantly shows up to red carpets looking her absolute best, whether she's in a pink gown, a black dress, or a denim jacket. And her look at the 2018 Emmy Awards was no exception. But, while people are loving her look this year, the fact that people are praising Millie Bobby Brown for "dressing her age" at the Emmy Awards is pretty uncalled for and problematic.
While cultural norms may try to dictate how the world should do certain things, it's important to remember that there is no specific way that a 14-year-old should look or dress, and that includes an actress such as Brown.
Brown is one of those celebrities who is easy to love. From her awesome personality (which she often displays on red carpets) to her starring role in Stranger Things as Eleven. And it's especially hard not to love her red carpet looks that she has worn over the years, as detailed by Us Weekly, which show how much fun she has dressing up for these events.
And Brown's look at the 2018 Emmy Awards was perfection. The actress looked radiant in her off-the-shoulder pink floral dress with a full skirt and loads of people couldn't get enough of it.
However, instead of adding her to the ranks of the "Best Dressed" looks of the evening, some Twitter users were quick to make comments about how Brown got to look like "a kid" and how the dress made her look "her age." As if a certain dress takes away the fact that she's 14 years old...
The fact of the matter is, Brown has every right to wear whatever she wants and strangers on the internet have zero right to judge her Emmys look, or any look of hers; she's a teenager just figuring out her own style.
This problem doesn't exist only on the red carpet with celeb teens like Brown. Students and their parents often find problems with high school dress codes, because many of these rules only apply to what girls should and should not wear. As explained by USA Today, dress codes (aka how society thinks girls should look) "sexualize and objectify girls in a way that unfairly shifts blame onto them."
Indeed, when people praise young girls for "looking their age," there is also a hint of sexualization and low-key shaming that needs to be addressed. Let young girls be young girls, free of any preconceived notions about how to dress because some people seem to think a certain dress will make them look older than they are. As Mic reminded of the sexualization of celebs like Brown, "It is never, and will never be, the fault of these stars for looking older to some people."
Part of being a teenager is playing around with your look, pushing boundaries, and discovering what makes you feel comfortable — and Brown has every right to do just that with every single outfit she wears.
Instead of focusing on and talking about Brown's dress, people should be talking about her accomplishments. This year, Brown was nominated in the Outstanding Supporting Actress in a Drama Series category for her role on Stranger Things, according to People — and this is the second year that she has been nominated. If she wins the award, she will make history and be tied with the youngest person to ever win an Emmy, according to Business Insider. It is a huge accomplishment alone just to be nominated and people need to be praising her more for this.
This is hardly the first time Brown's style and age have been a topic of discussion. You might recall, when Season 2 of Stranger Things premiered last October, some people claimed that Brown looked very mature in her black pleather shirt, according to Yahoo! Lifestyle. Just a few months later, people were making those same claims when Brown wore a gorgeous backless black dress to the 2018 Golden Globe Awards in January. The most common comment about these looks? "Let her dress like the teenager that she is." How does one know who made her wear that dress? How do people on the internet know she didn't pick that dress out herself? And at the same time, Brown has been praised for wearing "age-appropriate" converse sneakers on the red carpet, according to Business Insider, or "looking like a princess" when she wears gowns with a fuller skirt, according to Harper's Bazaar.
All this criticism and these opinions send mixed messages and are often problematic. But no matter what a 14-year-old teen like Brown decides to wear, certain comments, like these, just need to stop.
This article was originally published on