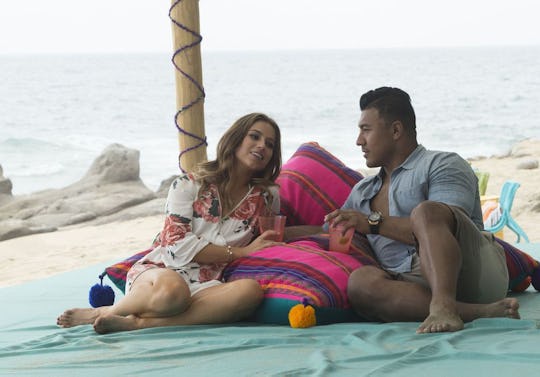 Paul Hebert/ABC
'Bachelor In Paradise' Is Finally Hosting A Rose Ceremony
We don't usually have to wait almost three episodes for the first Bachelor in Paradise rose ceremony, but for Season 4 there were enough hiccups to make that happen. Needless to say, people can't believe the Bachelor in Paradise rose ceremony is finally happening since it's already taken this long to get here. I never thought I'd be so excited to see Bachelor in Paradise contestants' hearts broken, but at this point, a rose ceremony is necessary to finally weed out those who don't fit in within any of the couplings that have already formed.
Typically, the Bachelor in Paradise rose ceremony is during the season's second episode on the first Tuesday night episode, but the break in filming kind of put a halt on Bachelor in Paradise Season 4's first rose ceremony. The first rose ceremony of the season was put off because of the break in production due to the allegations of sexual misconduct on set.
When the contestants returned, they almost had to start all over again and as new contestants arrived, it seemed like the rose ceremony would never happen. Seriously, what does a fan have to do to get to see the season actually progress further than some sloppy kisses on the beach and nightly makeout sessions between cast members?
Fans' reactions to Bachelor in Paradise finally airing a rose ceremony show just how impatient we've all become since in a show like this, it's one of those things you come to look forward to.
There are no hometown dates or trips to faraway countries where contestants will go skydiving for their first dates, so getting a rose ceremony every week is a nice break in the usual string of dates. It also brings the drama and tears, and let's face it — paradise is nothing without those key ingredients.
Unfortunately, President Donald Trump's address on the state of the war in Afghanistan was scheduled to interrupt Bachelor in Paradise when the rose ceremony was finally about to happen Monday night, but fans still won't have to wait until Tuesday to see who goes home on Bachelor in Paradise since the show was scheduled to return in its entirety directly after the speech.
While Taylor and Derek on Bachelor in Paradise are already a sure thing, there are still enough would-be couples who need more time or really, more contestants to shake things up. A rose ceremony usually helps keep things fresh and now that it's finally happening, fans can hardly contain themselves.