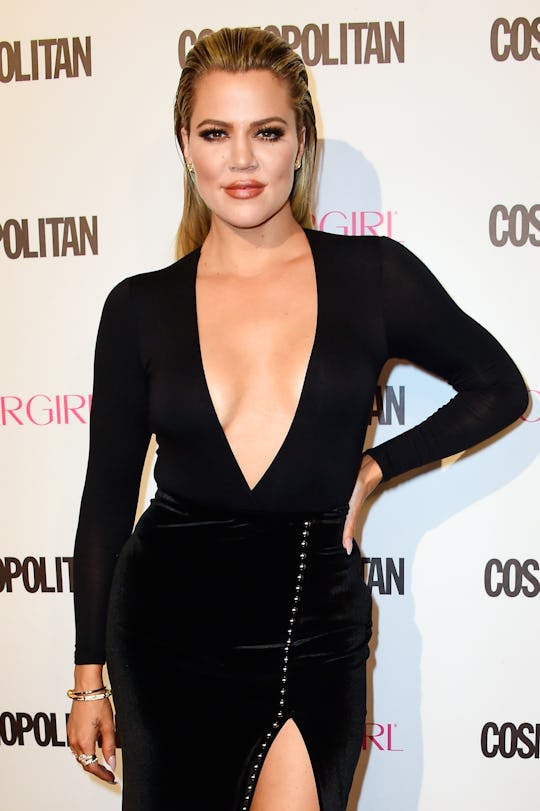 Frazer Harrison/Getty Images Entertainment/Getty Images
People *Really* Want Khloé To Give Her Daughter The Kardashian Last Name & It's So Sweet
Khloé Kardashian has a lot going on this week. Just days after her boyfriend Tristan Thompson's alleged cheating scandal broke, she reportedly gave birth to her daughter early Thursday morning. And in response to all that, a lot of fans want Khloe's baby to have the last name Kardashian as opposed to Thompson. Specifically, many have taken to Twitter and Instagram to encourage the Keeping Up with the Kardashians star not to name her baby after Thompson.
Kardashian has made her intent to give her baby the last name Thompson clear on many occasions. At her baby shower, a neon sign bearing the phrase "Baby Thompson" hung in the background of photos, implying that the baby's last name would be Thompson.
In fact, before finding out the baby's sex, Kardashian told Ellen DeGeneres on her talk show that if she was having a boy, she would name it Tristan Thompson Jr. As you probably know by now, Kardashian found out she was having a girl, so the baby's name remains a total mystery.
And when she did find out that she was having a girl, she was caught super off guard. She opened up on Keeping Up with the Kardashians about experiencing disappointment about the baby's sex, which is a lot more common than it seems. After getting over her initial feelings, she was super excited to be having a girl — though she had no idea what to name her.
All that being said, many fans are hoping Kardashian's baby's name winds up a little less, well, Tristan-y. Some specifically hope the baby's last name is Kardashian:
While others just want the last name to be anything but Thompson.
And some fans hope the name is entirely devoid of the letter T.
In early March, Kardashian suggested that she might be giving the baby a T first name, with the possibility of a K name following closely behind. "I think a T but a K is an option as well. That's as far as I know," she tweeted.
Earlier this week, The Daily Mail reported allegations that Tristan Thompson cheated on Kardashian, complete with a video of someone appearing to be Thompson kissing a woman at a New York City club on Saturday night. They were also reportedly caught on camera entering a hotel and then leaving a few hours later.
Additionally, TMZ uncovered footage of someone purported to be Thompson at a hookah lounge in Washington, D.C. from October 2017. In the footage, the man who appears to be Thompson is surrounded by three women, one of whom the man is seen kissing, and one of whom appears to stroke his crotch area. Thompson's and Kardashian's reps didn't immediately respond to Romper's request for comment regarding the allegations.
Still, most fans seem to be taking the videos at face value, and the general consensus on the internet is that Thompson really did cheat on Kardashian. Plus, when TMZ reported that Kardashian welcomed her baby Thursday morning, the outlet stated that Thompson was present for the birth.
If Kardashian does choose to give her daughter her last name, she'll be the first Kardashian woman to do so. Kris Jenner's kids all have the last names Kardashian and Jenner; Kourtney's kids all have the last name Disick after their father Scott Disick, even though the former couple never married; Kim's children all have the last name West after their father, Kanye West; and Kylie Jenner's baby Stormi has the last name Webster, which is Kylie's boyfriend Travis Scott's actual last name.
Whatever Khloé Kardashian chooses for her daughter's last name, it's safe to say she will love her just the same.