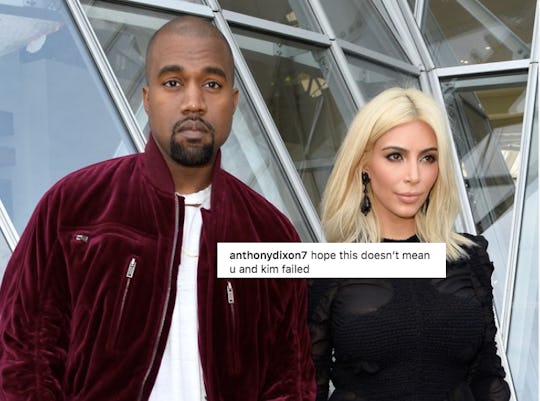 Pascal Le Segretain/Getty Images Entertainment/Getty Images
People Think Kanye West's Bizarre Return To Instagram On Valentine's Day Is Hinting At Divorce
Kanye West has been on a social media hiatus for what seems like forever, but on Valentine's Day, he picked up posting with some pretty cryptic posts. And now, some people seem to believe that Kanye West's return to Instagram on Valentine's Day is hinting at divorce from his wife, Kim Kardashian.
That would be pretty cruel and quite the social media stunt, which has me thinking that given the subject matter, he's hinting at iconic couples and ride-or-die relationships — even if some of them ended up being divorced. Let me explain.
West posted a simple shot of a piece of paper that says, "Happy Valentine's Day Babe," with no caption at all. Then, there are about a dozen shots of iconic couples over time, although only one is still together. (Michelle and Barack Obama.) The others include Princess Diana and Prince Charles, Tommy Lee and Pamela Anderson, Sean Combs and Jennifer Lopez, Kate Moss and Johnny Depp, Cindy Crawford and Richard Gere, Madonna and Sean Penn, Tupac and Aaliyah, and a slew of other couples that for various reasons, are no longer together. Most were pretty bad breakups or toxic relationships, though, which has people worried. Myself included.
Editor's Note: The Instagram post has since been deleted.
West is an artist at heart and there's always a concept behind whatever he's up to, so there is a meaning. We just don't know what it is yet. Some people are convinced that this means trouble in Calabasas. I mean, who compares themselves to Courtney Love and Kurt Cobain, seeing as he was majorly depressed and some conspiracy theorists think she had something to do with his death? This is not exactly romantic.
One person wrote on the pic of Combs and Lopez, "Moral of the story everybody goes thru break up.....f*ck love." Another added on a pic of Moss and Pete Doherty (yes, some stars made multiple appearances), "basically saying love is dead."
On another picture of Elvis and Priscilla Presley, a fan wrote, "What exactly are we supposed to make of this? Most of these couples aren't together anymore. What are you trying to say Yeezy??"
Which is a good question. I mean, who knows how long this will even go on. He started posting late Wednesday afternoon and at the time of writing, he's still adding pics every couple of minutes.
Meanwhile, Kardashian has been posting pictures of her and West together, kissing and happy on both Instagram and Twitter, so... this could mean anything. She also retweeted a pic from LaLa Anthony plugging Yeezy Season 6, West's clothing line. So there doesn't seem to be too much trouble in paradise.
All of these couples had intense, highly public love affairs, whether or not they fizzled out or ended in a huge divorce the entire world knew about. And maybe that's West's point. For every fan who thinks he's talking about a breakup, there's someone else who's just noticing that these are all icons. Both Kardashian and West think a lot about being famous and the parts of their lives we see on TV and on social media are highly curated. It's part of their genius.
So, with West posting all these pictures of other super famous couples that actually, the general public probably doesn't know much about really, he might just be shouting out the fact that they're the one very high profile couple that will last or stands apart from the others, or embodies ...something. (Because really, Michelle and Barack are epic, so their inclusion kind of throws other theories off.)
Who knows what this huge return to social media means, or that the only person he follows is his wife. It definitely means something, since West left all social platforms back in May 2017 after some very infamous tweet storms throughout the years. A source told Us Weekly at the time:
He wasn't using social media that often and it wasn't necessary for his creative process. It wasn't a healthy outlet for him. He's in a different place now [and] is trying to focus on stuff that matters.
Which totally makes sense. But something must have moved him to make a huge romantic (hopefully) statement about love, history, and his relationship with Kardashian. Now we'll just have to see if it lasts. Or if he'll ever get to Beyoncé and JAY-Z with these "famous couple" posts.
Check out Romper's new video series, Bearing The Motherload, where disagreeing parents from different sides of an issue sit down with a mediator and talk about how to support (and not judge) each other's parenting perspectives. New episodes air Mondays on Facebook.