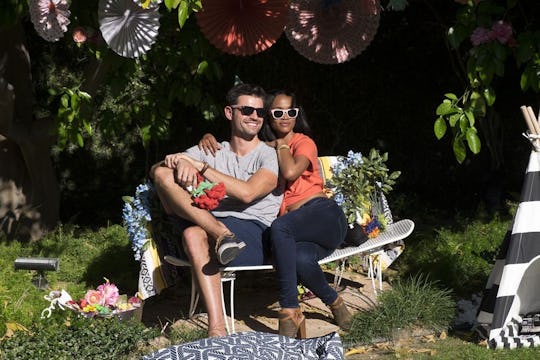 Scott Baxter/ABC
This 'Bachelorette' Contestant Values Family Above Everything
Last season on The Bachelor, Rachel made it clear right away how important family is to her and with Nick Viall, that was a common link the two shared. This season on The Bachelorette, Peter might be the one to share that similar bond with her since Peter's Instagram proves the Bachelorette contestant values family above everything else. He definitely has an appreciation for the close friends in his life.
In fact, he even posted a photo in October 2016 with his BFF of 10 years, so overall it's the long-lasting relationships in Peter's life that seem to matter the most to him and his Instagram proves that to be true. Rachel's family is important to her, as is settling down to begin a life and possibly start a family with someone else. So the fact that Peter is so family oriented gives him a definite check in the plus column right off the bat.
Plus, the many photos of Peter with his niece and nephew definitely bring out the future dad in him and make him seem that much more good looking for the Bachelorette fans who already have him high on their fantasy league rosters. Being from Wisconsin, Peter and his family seem to be huge Packers fans and attend games together too. In fact, on Thanksgiving, Peter posted a family photo (with some friends thrown in there) from a Packers game with a note that he's "thankful for the things that matter most."
And he definitely has a big family. He has a niece and nephew and has posted photos with his brother. It also looks like he might have a few sisters too, though it's hard to say for certain. But it's very clear from Peter's Instagram that The Bachelorette contestant values the time he spends with his close knit family.
Peter's family also looks like they're a lot of fun and since Rachel has proven herself able to get along with pretty much everyone while being totally genuine, it seems like she'd definitely fit in with them.
The personal trainer and business owner also posted a photo on Instagram of a stack of books his brother apparently bought for him for his birthday this year and added the caption, "A loving brother doesn't send you money for your birthday, he sends you the tools to make as much of it as you can on your own," even further proving how close Peter must be to his family.
But getting back to the adorable niece and nephew that Peter seems to have amazing connections with. If you weren't sold on Peter winning The Bachelorette this season, you might be rooting for him now because the cuteness is just too impossible to deny.
Rachel and Peter haven't had too many big talks yet about their future, which is to be expected this early in the season, but they both care so much about the important things like family and getting to know each other, that the two of them having a future together is definitely a possibility. And since Peter's Instagram proves just how devoted he is to his family, The Bachelorette contestant might be as real as Rachel is.