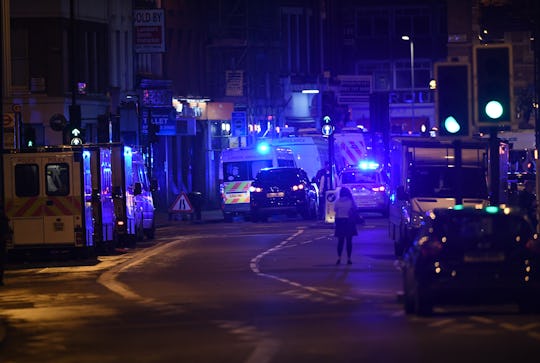 Carl Court/Getty Images News/Getty Images
Photos From The London Bridge Incident
An attack on London Bridge Saturday evening has left the world feeling terrified as details continue to come in. Currently, CNN has reported that gunshots were fired and a van struck several people walking along the bridge, but the photos from the London Bridge incident are even more terrifying than the reports. They show a lot of panicked people fleeing the scene, a lot of police cars, and in some, what many expect to be the actual van that swerved and, authorities suspect, aimed to injure pedestrians on the bridge.
UPDATE: The London Bridge attack has since been declared a terrorist incident, according to the Associated Press. London Metropolitan Police Commissioner Cressida Dick on Sunday confirmed that the death toll in the London Bridge attack had been raised to seven, not including three of the attackers, with at least 48 others injured. Dick added that the remaining injured had been transported "to five hospitals across London." Some were in critical condition. The three attackers "were fatally shot by officers within eight minutes of the first emergency call," according to The Washington Post. An additional 12 people have also been arrested in connection with the attack.
EARLIER: Unfortunately, the horror continues to grow with more reports. Currently, the latest news from BBC is that police are looking for three suspects after a van struck several people on London Bridge, gunshots were fired, and several people were allegedly stabbed at Borough High Street, which is essentially in the same area as London Bridge.
There is currently no reported motive for the attack, although many are speculating it's terrorism. With the recent attack in Manchester at the Ariana Grande concert just two weeks ago, it's no wonder everyone's feeling panicked. And, unfortunately, the photos from the London Bridge incident show just that — a lot of heartbreak, a lot of fear, and a lot of worry.
It doesn't look like the pictures will stop. BBC reported at 7:19 p.m. EST that police are responding to a third incident in the Vauxhall area. There are no more details at this time on what is happening there.
According to The Associated Press, police are officially calling these attacks "terrorist incidents." The term doesn't do these pictures justice — they are more than just terrorist incidents. They're chilling, frightening, and heartbreaking. Despite Vauxhall no longer being an issue, it seems the world can expect more pictures of the scenes — BBC has reported that an eyewitness claimed to hear more explosions on London Bridge right before 9 p.m. EST.
Stay strong, London.