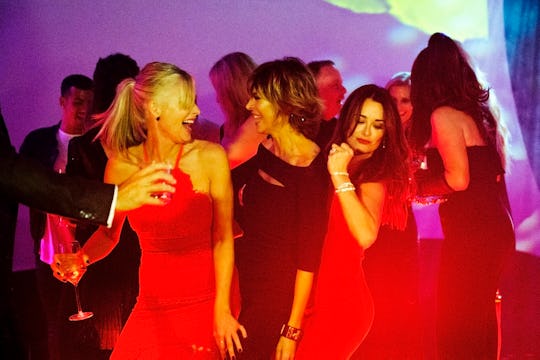 Nicole Weingart/Bravo
Photos Of The 'RHOBH' Hong Kong Trip Are Squad Goals
No matter where the women of Real Housewives of Beverly Hills go, it seems like trouble and adventure simultaneously follow them. That might just be because they're part of a reality show that gravitates toward drama, but even so, the photos from the RHOBH Hong Kong trip prove that the ladies of the show can find fun just about anywhere.
It's probably kind of hard not to find something amazing to do in Hong Kong, but just in case you missed all of the drama and adventure that ensued on RHOBH so far during the housewives' trip overseas, some of them have posted photos and videos on their individual Instagram accounts to give you even more insight. Unfortunately, none of the photos from the RHOBH Hong Kong trip are about that now-famous dinner that had Lisa Rinna and Dorit Kemsley at each other's throats yet again. However, the lack of photos of each other on their respective accounts further proves that apart from the show itself, the women clearly want nothing to do with each other.
The many feuds aside though, watching the women of RHOBH travel to Hong Kong and get into all kinds of hijinks and drama has been a nice change of pace from the usual tropical or Californian spots viewers have become used to seeing the women in.
The whole reason for the Hong Kong trip on RHOBH was for Lisa Vanderpump to work on the documentary about the Yulin Dog Meat Festival, and while she did take the time to do her scheduled work while there, you'd better believe that the Hong Kong trip has also been about reigniting drama and taking lots of photos to document the amazing things the women have seen along the way.
It's no big secret that these housewives, who are legitimately never not perfect, know how to party. And the videos and photos from the RHOBH Kong Kong manage to show that.
I don't think anyone expected tensions to be over once the women of RHOBH made the trip to Hong Kong and really, with all of them forced to be in closer quarters than usual, there was little chance of any of the drama being squashed. But were any fans really hoping for a lack of drama on RHOBH?
Luckily, there are still photos from the RHOBH Hong Kong trip to enjoy as their travels come to an end on Tuesday night's episode.