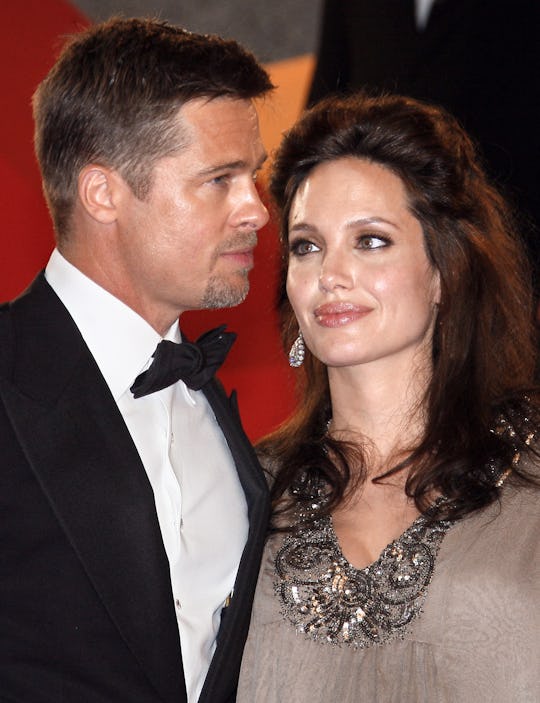 FRANCOIS GUILLOT/AFP/Getty Images
Photos Of Angelina Jolie's Wedding Dress Serve As A Sad Reminder Of Happier Times
The public's fascination with famous couples isn't a new trend. From the televised 1981 wedding of Charles, Prince of Wales, and Lady Diana Spencer — which attracted an estimated global audience of 750 million — to the high-profile coupling of movie stars Brad Pitt and Angelina Jolie back in 2005, we non-celebrities can't seem to get enough of the love lives of the rich and powerful. Following Tuesday's announcement of Brangelina's demise, fans are mourning their loss by searching for photos of Angelina Jolie's wedding dress, a seemingly sad reminder of happier times for the Hollywood pair and parents of six.
The couple had been together for nearly a decade before officially tying the knot in August 2014 in the chapel of Château Miraval, the family's estate in the French village of Correns. After falling in love while filming Mr. and Mrs. Smith in 2004, Pitt and Jolie's whirlwind romance made headlines as they jetted the globe and quickly added to their growing family. Though vocal about their commitment to each other, marriage was never a priority — in fact, Pitt told Esquire in 2006 that he and Jolie wouldn't wed until marriage was legal for everyone. But after nine years and six children, encouragement from their kiddos is what prompted the duo to finally get hitched.
The Jolie-Pitt children each had a key role in the intimate ceremony: Maddox and Pax walked their mom down the aisle; Zahara and Vivienne served as flower girls; and Shiloh and Knox played their part as ring bearers. They also helped their parents write their vows and famously created one-of-a-kind drawings for Jolie's custom wedding gown, designed by Luigi Massi, master tailor at Atelier Versace. At the time, Jolie told HELLO! that:
Luigi is like family to me and I couldn't imagine anyone else making the dress. He knows and cares for the children and it was great fun putting it together.
Reactions to Jolie's custom gown ranged, with the New York Post calling it "a gross display of parenting run amok" and The Guardian saying it was "the most Angelina Jolie dress ever." Of course, the newlyweds couldn't care less — they were paid $5 million by PEOPLE and HELLO! for their wedding photos, the sum of which they donated to charity.
Brangelina's long-awaited nuptials weren't the only moment in the couple's relationship to inspire a collective "aww" around the globe. In 2013, Jolie published an op-ed in The New York Times, revealing her decision to undergo a preventive double mastectomy after discovering she carried the BRCA1 gene, which strongly increased her risk of developing breast cancer and ovarian cancer. She also wrote of her future husband's support during the surgeries, according to the Times:
I am fortunate to have a partner, Brad Pitt, who is so loving and supportive. So to anyone who has a wife or girlfriend going through this, know that you are a very important part of the transition. Brad was at the Pink Lotus Breast Center, where I was treated, for every minute of the surgeries. We managed to find moments to laugh together. We knew this was the right thing to do for our family and that it would bring us closer. And it has.
I'm not crying, you're crying.