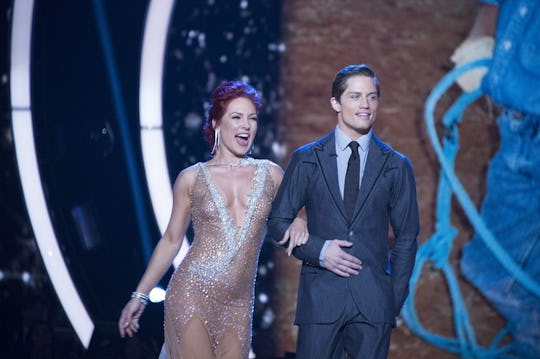 Eric McCandless/ABC
These Photos Of Bonner & Sharna Prove They're Worth Rooting For
Everyone who gets paired up on Dancing With the Stars doesn't have to end up in love, but it seems like all of the photos of Bonner Bolton and Sharna Burgess prove that this DWTS couple should at least be together. Their ballroom chemistry is no big secret, and neither is the fact that even during rehearsals Burgess and Bolton seem totally in sync with one another. As early as the Season 24 premiere of DWTS, fans were already loving Bolton and Burgess as a potential couple and for good reason.
Although there have been recent rumors about Burgess being in a relationship with actor Pierson Fodé, both Burgess and Bolton have previously said they're both unattached. At the beginning of the season, they spoke to Entertainment Tonight and admitted to being totally single. And even if either of them are secretly attached to someone else, the photos of Burgess and Bolton seem to tell a different story for the DWTS pair.
They've felt like a real couple since their first sexy cha cha from the season premiere and even judge Julianne Hough said that their chemistry was hard to ignore. Of course, as Bolton told E! News, whatever happens between the duo on the dance floor is "all a part of playing the character, for sure," but the photos of the DWTS pair speak for themselves.
Part of the fun of watching Bolton and Burgess dance on DWTS is wondering if they're secretly seeing each other or if they're both denying that something big is happening between them. Because, come on, just look at these two. Their cuteness is almost too much to handle.
Sure, a lot of the chemistry and what seem to be almost-kisses can be said for some of the other DWTS pairs because when they're out on the floor, they're supposed to be putting on a show that tells a story and enthralls viewers. But I also don't think we should totally discredit all of the images of Bolton and Burgess that show how much of a connection the DWTS pair seem to legitimately have.
Even if the rumors about Burgess dating someone are true, that doesn't mean that fans have to totally give up on the idea of her ending up with Bolton at the end of the season. How appropriate would a kiss between them be if they end up winning the Mirrorball trophy? It's almost expected at this point.
Burgess and Bolton might just be crazy good as having their characters come alive on the dance floor in order to give viewers what they've come to want, and in that vein, maybe there won't be anything more between them. But we can all dream, can't we?
By now, viewers have come to look forward to whatever dance Bolton and Burgess take on each and every week, not just because they work so well together, but because many fans believe that the duo belong together. So until it's officially proven otherwise, I say there's nothing at all wrong with 'shipping this would-be couple.