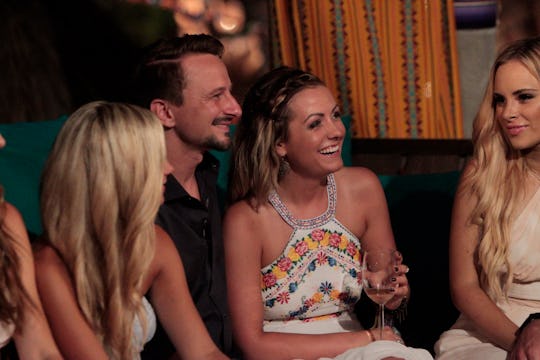 ABC/Rick Rowell
Photos Of Carly Waddell's Ring From 'Bachelor In Paradise' Prove Evan Has Good Taste
Carly and Evan's journey on Bachelor in Paradise had the kind of beginning that starts with "It's a funny story..." because it really is. It took some time for Carly to realize how great of a guy Evan is, when all of his weirdness and awkwardness wasn't so apparent, and once that happened, it was smooth sailing for the couple. They went on to be kind of a perfect couple and photos of Carly's ring from Bachelor in Paradise prove how much they're on the save wavelength as a pair now.
Choosing a ring on Bachelor in Paradise is like being told you can have literally any dessert you want, but your future spouse has to love it too and if they don't, you just wasted a lot of people's time and energy. So, no pressure, right? The couples on the show don't get to go ring shopping like some couples do before they get engaged, narrowing down their likes and dislikes. Instead, the men of Bachelor in Paradise are tasked with finding a ring that will symbolize their love with their respective partner.
But, seeing photos of Carly's ring from Bachelor in Paradise gives us even more proof that not only did she waste time pushing him away at the beginning, but also that the guy can pick out a ring with the best of them.
When Evan proposed to Carly on the season finale of Bachelor in Paradise, it wasn't particularly shocking, since their connection was obvious for a while, but the tears seen all around were still plenty warranted. As Evan said, Carly "embraced [his] weird" and that's kind of amazing, coming from one half of the couple who seemed doomed from that awful first kiss.
The ring Evan chose for Carly was pear-shaped with surrounding diamonds and Carly tearfully approved it as Evan slipped it onto her finger, but it's not like he could have gone wrong in choosing one of the Neil Lane engagement ring options all of the men get. There was some possible drama leading up to Evan's proposal, along with what could be perceived and uncertainty, but Evan and Carly are probably the most solid couple right now, with so little standing in their way, so getting engaged after six weeks of dating is just a little less weird in this case.
All that's left to do now is hope for that televised wedding event to further celebrate Evan and Carly. Because by now, we're all deep into it with them.