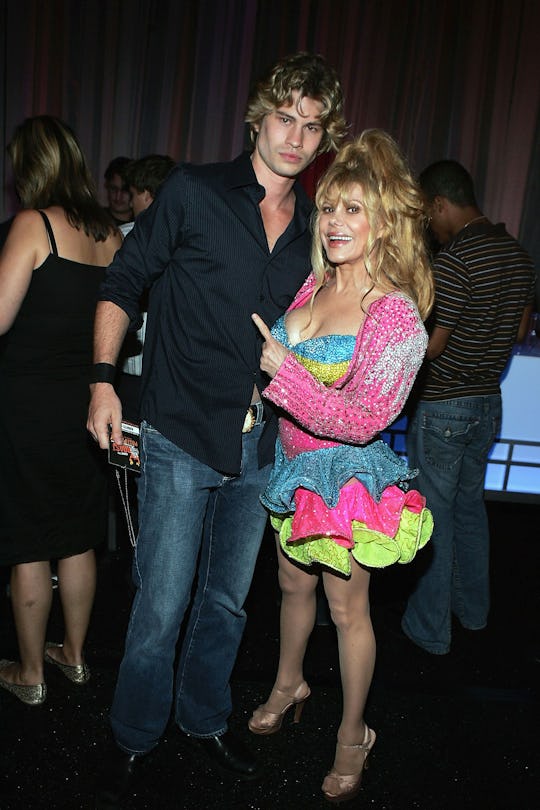 Mark Mainz/Getty Images Entertainment/Getty Images
Charo & Her Son Are So Supportive Of Each Other
If you didn't already wish Charo was your mom/friend/aunt/neighbor after watching her on Dancing With the Stars so far this season, the photos of Charo and her son will probably do it for you. Not only is she entertaining and charismatic like all of the time, but she seems to have a legitimately good relationship with her only son, actor Shel Rasten, and the two take the time to post encouraging and supportive social media posts for each other on the regular.
Rasten was even in attendance for his mom's debut performance on DWTS, along with some of their other family members. Although Charo has been working as an actress, singer, and all around performer for years and has never really stopped, she seems to have maintained a solid relationship with her son. The 66-year-old performer has been married to producer and manager Kjell Rasten since 1978 and Shel is the couple's only kid. It's heartwarming to seem them share such a close relationship together and are showcasing some very big mom and son goals for sure. This is only further proven by the photos of Charo and Shel (courtesy of social media), which demonstrate their perpetual support of each other.
Charo posted the photo above on her Instagram with the caption, "With my gorgeous son @shelrasten, A very talented musician." She followed it up with tons of musical emojis. When their family was part of Celebrity Wife Swap back in 2015, Shel was on hand to be a part of it all with his parents and they seemed to have a fun time doing it together.
In the most recent episode of DWTS, Charo had a couple of exchanges with judge Bruno and was held back from making a run for the judge's table. Everyone laughed it off and it was pretty entertaining in a way only Charo could get away with. When Shel posted a video of the event on his Instagram, he captioned it with, "Should I be embarrassed or inspired to madness???" Obviously he's totally inspired by his mom, who he showed up to fully support on the show's Season 24 premiere.
On another Instagram post, Shel wrote, "Check out my mama rip it up this season! Unbelievable, I'm so proud to be her progeny." If you needed any more proof that Charo and her son have a seriously special bond, there it is. In a 2014 episode of OWN's Oprah: Where Are They Now? Shel said that Charo is "the best mom I can imagine." He went on to say that Charo is "honest and fierce, and very protective and supportive." Like I said, Charo and her son are totally maternal relationship goals.