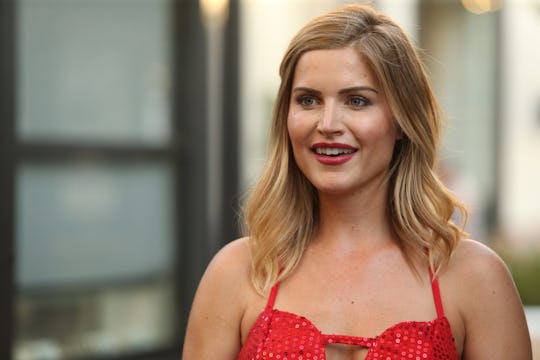 Paul Hebert/ABC
These Photos Of Chelsea & Her Son Will Warm Any 'Bachelor' Fan's Heart
There are a lot of things the contestants put on hold in order to appear on The Bachelor and Bachelorette each season, including their jobs or careers and, in some cases, time with their own children to find love on reality TV. This season on The Bachelor, Chelsea Roy is the resident mom who knows how valuable her time is with Arie Luyendyk Jr. and the photos of Chelsea and her son prove The Bachelor contestant makes parenting a priority in her life.
As Chelsea revealed early in the season, she's a single mother to an adorable three-year-old named Sammy, and although she hasn't revealed much yet about her relationship with her ex-husband and her son's father, what really matters the most is that she has a good relationship with her son. When she eventually revealed to Arie that she is a mom, it was kind of anticlimactic, since it really isn't a huge deal that outside of The Bachelor, Chelsea has a son and it likely gave her hope for a future with Arie. Especially since her Instagram photos with the little guy prove how close they are and makes you want to pray to the Bachelor gods that Chelsea gets herself a hometown date, if only to allow Arie and the millions of viewers to see her little boy on-screen.
During The Bachelor season premiere, Chelsea made it clear that she values her time and that she knows how important it is to make her time on the show worth it since she has a son back home. In a way, it made her out to be a villain of sorts, since she was unafraid to step on toes if she needed to, but we all know that Krystal ended up being the one with the right edit to fill those shoes. In any case, Chelsea hasn't been shy about being a mother, and why should she be? In the past, Bachelor Nation contestants Amanda Stanton and Kenny King were upfront about being parents and they both still made quite an impression on the franchise as a whole.
As anyone with kids will tell you, having an Instagram clogged with candid photos of them is pretty much how it goes. You might start off worried that your followers will get tired of the adorable toddler photos, but eventually, it's not really going to matter and clearly, Chelsea knows that too.
Weeks before Arie's season premiered, Chris Harrison spoke to People and revealed his top five Bachelor contestants of the season, which included Chelsea high up on the list. He revealed that the contestant "goes out of her way to make a first impression on Arie," which we already know and which earned her the First Impression Rose during the premiere. "He is very taken by her, but he can tell she's holding back. She has a little bit of a secret. She will reveal it into the show." Honestly, it could have been anything, but the secret of having a son did nothing to deter Arie's interest in the Real Estate Executive Assistant. In fact, he admitted to having dated and lived with a woman who had kids prior to coming on The Bachelor.
Chelsea's Instagram features some impressive professional modeling photos as well as some artsy travel pics, but other than that, her son is definitely the main focus and it proves that away from The Bachelor, parenting is her number one priority.
Chelsea isn't the first contestant to reveal herself to be a parent and she certainly won't be the last, but the fact that she went on the show at all proves how much faith she has in the journey that The Bachelor provides. And maybe, just maybe, Arie will fall in love with both Chelsea and Sammy in the end. Or, at the very least, bring her as far as hometown dates, because she's worked hard to stay at the forefront of his mind this season, which can be difficult with two dozen other women.