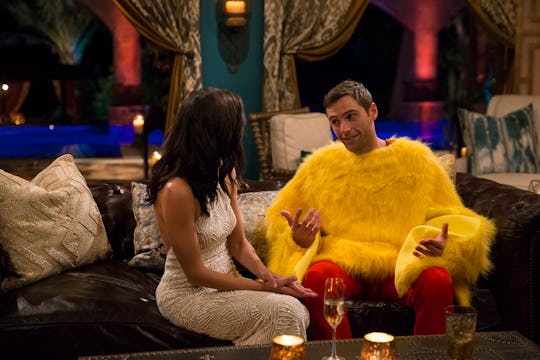 Paul Hebert/ABC
David's Face Seems Totally Fine After That Nasty 'Bachelorette' Fall
Who would have thought that the first two injuries of Becca Kufrin's season of The Bachelorette would be from accidents rather than actual fights between the men vying for roses? For Clay Harbor and his broken wrist and David Ravitz and his potentially broken nose, those were just two very unfortunate accidents for the contestants. Hopefully fans will get to see more of David once he returns though, because photos of David after The Bachelorette make him seem like so much fun in real life.
If Becca keeps him around long enough to really get to know him, she's likely in for some fun herself since there never seems to be a dull moment for the Colorado venture capitalist. I know, that painfully grownup profession doesn't seem to go along with the image of fun and playfulness, but David definitely seems to have a fun side to him that Becca would no doubt respond well to. Don't forget, he's the one who showed up on premiere night dressed as a chicken!
Of course, first David has to return from his hospital stint -- and judging from the promo for week four's episode his injuries may not be easy to stomach. Granted, The Bachelorette has a way of overdoing and dramatizing things, so it's possible that David's possible broken nose will heal just fine and he can continue on in the competition as planned. At least, I hope so, because he and Becca have definitely hit it off.
In April, David posted an Instagram photo of himself with two kids (who I assume are family) and he looks totally at home in would-be dad mode. Okay, that's probably a bit much, but he's obviously the kind of guy to get in the pool and have fun during family trips rather than opt to dangle his feet in or ignore the kids to drink with the other adults... and I kind of love that.
Interestingly enough, David's face seems absolutely fine in post-Bachelorette life.
There are multiple photos of David skiing with friends and family, and while that doesn't surprise me since he comes from an affluent family who totally seem like skiers, it just further proves that he probably has a fun and adventurous personality that he hasn't yet been able to show on The Bachelorette. You know, besides the chicken thing. Even before he was chosen as part of the cast this season he was all about skydiving, which is honestly as adventurous and daring as you can get in my book. Please let this poor soul stick around long enough to get to go on a classic Bachelorette date that features something like white water rafting or some other activity that real people never do for dates.
David also seems to be an avid golfer, which isn't exactly everyone's favorite sport, but it does show that he's not one to laze around too much. He'd obviously rather be outside doing something fun and physical. Don't get me wrong — I love me some Netflix and literal chill time, but David seems like he'd be so much fun for Becca that at this point, it's going to be pretty disappointing if she sends him home soon.
Once again, David seems to enjoy outdoor sports. And when he's not partaking in them himself, he seems to enjoy watching them, not unlike Becca, who's posted her own photos at live sports games in the past. Of course that doesn't mean that they're necessarily meant for each other, but they do have some things in common that could get lost in the sea of the handful of other men who currently have Becca's attention, as sometimes happens with The Bachelorette.
Besides being something of an outdoorsman and thrillseeker, David also spends a lot of time with his family. This apparently includes going to black tie functions, as you can see above! I don't know if this specific photo is from some fancy event or just a wedding, but the gown David's mom is wearing is absolutely stunning. She clearly has good taste, just like Becca!
At first, David may not have seemed to be too interesting, but judging by his photos after The Bachelorette he's totally down for whatever and he seems like so much fun that it would be a crime to send him home too early.